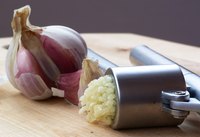 Impotence, also referred to as Erectile Dysfunction (ED), can affect a man at any time in his adult lifetime. It is attributed to both physical and psychological causes, and mainly affects men above the age of 65. Sexual impotence varies in severity from an inability to maintain an erection to an inability to get an erection. Luckily, there are a number of simple, natural home remedies that you can use to treat this condition.
Crush or finely chop a few garlic cloves. Combine 1 tablespoon of the crushed garlic with 1 tablespoon of honey. Take three times a day. For centuries, the Chinese have revered garlic as a natural, mild, yet effective aphrodisiac. Ayurvedic folk healers prescribed honey for the same purpose. Substitute ginger for the garlic for an even milder aphrodisiac.
Boost your libido using onion. Onions - particularly white onions – are believed to be second only to garlic for enhancing sexual health and improving male libido. Take yours raw or in the form of onion juice. You can also make an extract by finely chopping up two large onions, and steeping in 2 cups of warm water for 10 minutes. Drink 1/2 a cup three times daily.
Pour two cups of milk into a pan. Add ¼ cup of grated carrot and warm this on low heat for 10 minutes. Take ¼ cup three times a day for a week. Substitute the carrot with asparagus. Carrots have been proven to help fight impotence. Asparagus is also believed to possess aphrodisiac properties.
Make a trail mix that combines ½ cup each of black raisins, walnuts, prunes, walnuts and dried apricots. Crush these ingredients in a blender and then stir in 1 cup of honey. Store your mixture in an air tight container. Three times a day, take 1 tablespoon about an hour before your meals.
Prepare an herbal tea from hops (hunulus lupulus). Place one tablespoon into a cup and cover with 1 glass boiling water. Cover and steep the hops for 15 minutes. Strain and drink ½-cup two times a day before your meals. Take the remedy for ten days, stop for a week and then take it again for another seven days.