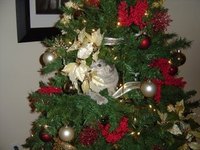 Milk-Bone reindeer, also called "reindeer treats," are the perfect confection for all good doggies to leave out for Santa on Christmas Eve. If your pooch has been the perfect pet this year, or is trying to get out of the dog house at the last minute, then this ornament will be the perfect present for Santa and his reindeer. If your doggie doesn't believe in Santa, then hang this ornament on the tree and enjoy it for years to come.
Things You'll Need
Milk-Bone
2 small google eyes
Gold or brown pipe cleaners
Small red craft pompom
Hot glue gun
Thin red ribbon
Scissors
Twist a pipe cleaner around one end of the Milk-Bone to form reindeer antlers. Once you have twisted the pipe cleaner tightly around the top of the treat, bend the remaining "tails" upward so that they form antlers. Give the antlers multiple spikes, or just have them point upward.
Glue on the google eyes and the red pompom nose. The eyes can be even with each other, or you can skew them slightly for a funnier look. The red pompom should go directly underneath the eyes.
Tie a length of red ribbon around the middle of the Milk-Bone, just under the red nose. Use a little bit of glue to hold it in place. This serves as the reindeer's harness. Leave long tails on the bow or cut them very short, whichever you prefer.
Glue a loop of ribbon to the back of the reindeer. This will be its hanger if you use it as an ornament. Use plenty of glue, as this side will not be visible, to ensure that the hanger is secure.