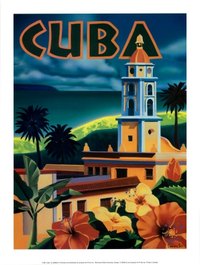 Cuba is an island that is like no other. Travel to Cuba as an American citizen has become quite difficult since the embargo, and you can be fined heavily for doing so. So how exactly do you travel to Cuba as an American citizen and not risk being fined or charged with a crime?
Travel through a third country. It's not exactly the most legal thing to do, but you can visit another country like Mexico or Canada and then go to Cuba. Upon your return trip you would need to go back to the country you originated from and then return to the United States from there. Cuban officials will not stamp your passport if you ask so you can return to the United States without the Cuban stamp. Keep in mind that there are other ways of officials determining if you went to Cuba since you are required to list what countries you have visited upon returning to the United States.
Obtain a general license to visit Cuba. If you are of a certain occupation and want to visit Cuba for research, studies or have family in Cuba, you can obtain a general license to visit. These are usually occupations like a doctor, dentist or sometimes even an actor.
Get a specific license. Specific licenses can be granted if you meet certain conditions. These can be a journalist doing research (freelancers only), an educator, humanitarian and religious related visits. Specific licenses are harder to obtain than a general license and have rigorous guidelines.
Join an educational group. Groups such as Global Exchange make visits to Cuba and other countries. You will need to apply to join and explain why your group wants to visit Cuba such as learning about its people and culture. These are usually more geared towards a group you already have, but it doesn't hurt to apply and see if you can get in on a travel group to Cuba. You will be required to get a license, but those can be obtained with the help of the group you join and you'll have a much better chance of obtaining one.