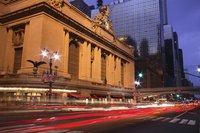 For travelers visiting Connecticut, it's easy to take a day trip to New York City using the Metro-North railroad. This commuter rail service connects NYC with upstate New York, New Jersey and Connecticut. The New Haven line runs from the city of New Haven in Connecticut along the Long Island Sound, all the way to Grand Central Station in Manhattan. Catch the line in Connecticut at any of the 21 stations between New Haven and Greenwich, or at one of the branches that travel into north and western Connecticut.
Things You'll Need
Make your way to the nearest Metro-North station in Connecticut. You can find Metro-North maps online that show each station in Connecticut, between New Haven and Greenwich, as well as stations along the branches that run from Danbury to Merritt 7 and New Canaan to Glenbrook.
Locate the ticketing machines. Most stations have gray and red ticket machines. Gray machines offer Metro-North tickets from your current station to the station of your choice in New York City, as well as several types of MetroCards that you can use on subways and buses to get around NYC. Red machines offer only one-way and round-trip tickets, Metro-North tickets and one type of MetroCard.
Purchase your ticket. Cost will vary depending on whether you are traveling to New York City during peak or off-peak hours and whether you are purchasing one-way or round-trip tickets. All weekend rides are considered off-peak times. You can also purchase tickets in groups of 10, as well as weekly and monthly unlimited ride tickets. If you prefer not to use the ticketing machines, you can purchase a ticket from an agent at the ticket office in the station.
Walk to the platform to wait for the train. Make sure you are standing on the platform at the station for the train bound for New York City.
Board the train when it arrives. Metro-North trains have somewhat plush seats with headrests to make the long ride more comfortable.
Give the conductor your ticket. A conductor will come to each car, typically once the train has departed, to collect your ticket. The conductor will hole punch it and hand it back to you.