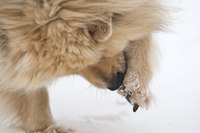 Lick granuloma, also known as acral lick dermatitis, has both psychological and physical roots. When a dog habitually licks at his paws, the skin becomes irritated. The resulting inflammation gradually thickens the skin; continued licking may result in ulcerations that will not heal. Any dog can develop acral lick dermatitis; however, certain large breeds are affected more than others. Several different treatments are used to combat acral lick dermatitis, due to its various causes.
Psychological and Behavioral
Like humans, dogs can have obsessive-compulsive behavior. They may develop this behavior due to boredom or merely out of habit. Because licking releases endorphins, pleasure-causing hormones, frightened or anxious dogs may repeatedly lick their paws to soothe or relax themselves. Determining the cause of their fear or anxiety is one necessary step to treating acral lick dermatitis on these dogs. Once these the root of the behavior has been found, appropriate treatment should be pursued with an experienced behaviorist or trainer. Drug therapy also may be used to aid some dogs.
Environmental Changes
Dogs will sometimes start licking their paws due to environmental issues: allergies, insects or other irritating factors may have been introduced to their surroundings. Your dog may be allergic to certain grasses or to treatments or fertilizers you have applied to your lawn. If you have recently changed cleaning products for your flooring or have changed laundry detergents in which you wash your dog's bedding, those products also may be considered a source for irritation.
Physical Ailments
The licking that can lead to acral lick dermatitis can be caused by a dog's response to physical ailments. Your dog may be telling you that he is experiencing discomfort from joint pain, a splinter, an infected wound or another source of irritation. If your dog is exhibiting a new licking behavior, investigate the area for a potential clue, such as a hard spot or broken skin. Early detection and treatment of this potential cause of acral lick dermatitis is the best form of treatment for physical ailments. Some illnesses, such as hypothyroidism, also may be a cause of acral lick dermatitis. Some breeds, such as Labrador retrievers, may be prone to acral lick dermatitis from this cause.
Physical Treatments
Prevent your dog's access to his wound or wounds. Doing so may require the use of an Elizabethan collar or similar device. Bandaging, collars and braces, as well as other forms of lick prevention may offer only temporary or partial relief for other treatment to occur. In extreme cases, laser surgery can be used to remove the infected layers of thickened skin, allowing healing to take place. Acupuncture may be of assistance to some dogs with acral lick dermatitis, as well.
Drug Therapy
It may be necessary for a dog to take drugs to counteract the causes of acral lick dermatitis. These drugs can be used to treat systemic bacteria or to ease your dog's fear or anxiety. Your veterinarian can do a skin scrape test to determine if there is an allergen or test for the presence of a fungus or a bacteria to determine the best drug to use for physical issues. Cortisone injections may relive the itching temporarily and allow other treatments to be tried. Other specially mixed topical medications may be used to relieve itching. Prozac, amitriptyline and other drugs that relieve anxiety and reduce obsessive-compulsive behavior are successful in treating acral lick dermatitis in 30 to 60 percent of all dogs with acral lick dermatitis but may be expensive over time.