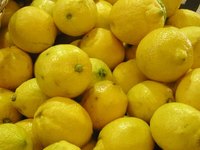 A master cleansing is most often referred to as the lemonade diet. Celebrities like Beyonce and Robin Quivers have touted the weight they have lost using this diet. It was never intended to be a weight-loss recipe; instead, it was meant to cleanse the body of accumulated toxins and reduce sugar cravings.
Things You'll Need
Fresh-squeezed lemon juice
Grade B maple syrup
Cayenne pepper
Spring or purified water
Optional: un-iodized sea salt, laxative tea
Prepare your lemonade drink by mixing the following ingredients:2 tablespoons fresh-squeezed lemon juice 2 tablespoons Grade-B maple syrup1/10 teaspoon cayenne pepper 8 ounces of spring or purified water
Do not eat solid food during the 10-day cleanse; instead, replace meals with 6 to 12 glasses of the drink mix every day.
In addition to the lemonade, drink one glass of un-iodized sea salt with purified water in the morning and a laxative tea in the evening.
In addition to the lemonade, drink 8 to 10 glasses of purified water throughout the day to guard against dehydration.