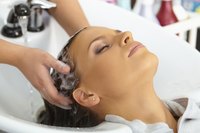 Travel sizes of necessary toiletries and favorite products easily tuck away in luggage where a full-size version may hog space or carry an increased chance of spilling all over your clothes. If you've got a carry-on, you need to keep fluid ounces down to abide by Transportation Security Administration rules. Find the right travel sizes whether you've planned ahead or are left high and dry without a tiny can of hairspray.
Drugstores and Grocery Stores
Most drugstores and grocery outlets stock a suitable selection of the obvious travel-size essentials, including toothbrushes that tuck into a travel case, varieties of toothpaste, mini shampoos and conditioners, body wash and more. You can purchase plastic travel containers to hold a bar of soap or enough medicine for a trip, or save even more money by purchasing little travel bottles and pouring in your shampoo and body wash. Travel essentials here don't stop at the travel-size aisle, though, as you can grab facial cloths that scrap the need to carry bottles of makeup remover and cleanser, or dry shampoo for quick hair touch-ups. Grab snack packs of crackers, dried fruit, instant soup mix and other munchies to add sustenance to your travel stash. Pick up quart-size zip-top plastic baggies; the TSA requires all of your carry-on liquids and pastes to be packed into one of these clear bags and separated from the rest of your luggage for screening.
Specialty Retailers
If you've got a favorite haircare brand or are looking for miniature sizes of cologne or lip gloss, check directly on the brands' websites or at retail outlets for a selection of travel sizes. Shop at specialty retailers that offer travel sizes of their signature brands, such as beauty retailers, salon supply stores, skincare specialists or bath-product retailers. Stash away those deluxe samples and smaller sizes of moisturizers, mascara and more that come in the gift-with-purchase bags at beauty counters.
Online Travel Depots
For one-stop shopping akin to wandering into a superstore stuffed with every imaginable travel size, shop specialty websites dedicated to the minutiae of the TSA's 3.4-ounce carry-on rule. Minimus.biz offers teeny sizes of everything from sunscreen to laundry detergent and ketchup. 3FLOZ has a vast selection of TSA-approved sizes, including prestige beauty brands, and lets you shop by general destination. AllTravelSizes.com spans a range of emergency products to clothing care and beyond, including prepackaged kits and organic products.
Hotels, Airports and Convenience Stores
If Murphy's Law is hovering over your packing effort, you're bound to forget something while shoving the essentials into a suitcase. Hotel and airport shops know this and conveniently stock those little tubes of toothpaste, mini containers of ibuprofen or compact cans of shaving cream. Avoid making all of your travel-size purchases at these shops, though, as you can expect your desperation to be met by marked-up prices. And check with your hotel's concierge or front desk first, as the hotel usually stashes free toothbrushes, razors, deodorant and more for forgetful guests.