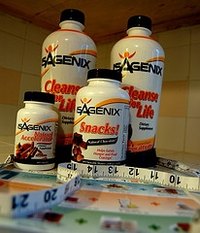 Nutritional cleansing is important to the way the body looks and functions. Over time environmental toxins and undigested food accumulate and build up in fat cells. By cleansing the body and ridding it of all that build up and excess fluid, the body becomes "cleaner" and lighter. This leads to immediate inches lost, continued weight loss if desired, weight and health maintenance, as well as a clearer more focused mind. One very effective method of nutritional cleansing is The Isagenix System. It not only cleanses the body but replaces necessary nutrients to promote healthy body function. The Isagenix system has a 9 day program and a 30 day program, depending on your needs. Following is an idea of how the 9 day program, intended for accelerated weight loss in a shorter amount of time, works.
Things You'll Need
Isagenix 9 Day System, which includes:
Isalean shakes
Cleanse for life juice
Snacks!
Natural Accelerator capsules
Measurement chart
Tape measure.
Prepare for the Isagenix 9 Day Cleanse by taking body measurements using the chart and tape measure included. Record your measurements at key points of days 3, 6, and 9 to track your progress and keep you motivated.
"Pre-cleanse" your body for two days before the cleanse begins. This is done by replacing two meals per day with the "IsaLean Shakes". For your third meal eat a sensible dinner of 600 calories. This step is mandatory for new users and optional for those who have used the system before.
Alternate shake days and cleanse days according to the Isagenix schedule. Days 1-2 and 8-9 are cleanse days. Days 3 through 7 are shake days.
Start your cleanse day by taking two "Snacks!" before drinking your first dose of "Cleanse for Life" juice.
Mix 4 ounces of "Cleanse for Life" juice with 8 ounces of cold purified water. This makes one serving. Drink one serving four times each day. This can consumed quickly or served over ice and sipped over a period of time.
Take a "Natural Accelerator" capsule with each meal to jumpstart your metabolism.
Drink 2 servings of "IsaLean Shake" as a meal replacements on your shake days. Eat a third sensible meal of 400 to 600 calories.
Ward off cravings and hunger by eating the "Snacks!" that are included in the Isagenix System. It is also acceptable to munch on raw, whole foods when necessary, such as an organic apple or raw almonds.
At the end of the 9 Day Cleanse you should record your measurements but you won't need that to prove your results because the proof will be in the way your clothes fit looser, your energy is increased, and your mind is more clear and focused.