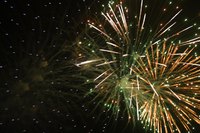 The fireworks show at Disneyland is not one to miss for anyone visiting the magical theme park. The most popular area to view the attraction is in front of Sleeping Beauty's Castle, but space is limited and most visitors end up reserving their space by standing or sitting in place for more than an hour before the show. To maximize your time at Disneyland but still see the fireworks, there are a few other options.
Watch from in front of It's A Small World if you don't mind missing a cast member dressed up as Tinker Bell sailing past the castle. Behind Toontown is a parking structure where fireworks are launched, so Toontown closes early every night there is a show to protect guests from falling embers. The closest place to watch the fireworks beyond Toontown is in front of the It's a Small World ride. Not only do you get to avoid the traffic and the mayhem around the castle, but you also get to enjoy the animated projections on the It's a Small World building.
Board a Storybookland canal boat in Fantasyland if you want to watch the show and don't care about the music accompaniment. There only are a few boats that will run just before the start of the fireworks show, so wait in line just before the show and confirm with a cast member that the boat you board will stop for the fireworks. There are no speakers to hear the music, but sitting among the miniatures that represent classic Disney homes and places while watching fireworks overhead can be a magical experience.
Ride the Casey Jr. Circus Train for a different perspective. You might not be able to watch the entire show from here, but being on a small moving train touring around the Storybookland miniatures can offer a very attractive viewpoint. Ride in the cars with the open tops so your view will be less obstructed. Even standing in line for Casey Jr. offers a good view of the fireworks.
Go to the Rivers of America near the Mark Twain steamboat dock if you are going to a Fantasmic show. You'll already have a seat, will have plenty of speakers surrounding you and might be able to find a spot where Tinker Bell and the pinwheel fireworks will be visible.
Find a table and eat at the Plaza Inn. You can enjoy fried chicken, pot roast, pasta, or salad while sitting at an outdoor table. Make sure that when scouting out a table to watch the show and have your dinner, you have a view of the castle.
Watch from the Mickey and Friends Parking Structure if you want a lot of privacy and can do without the music. You might have to put up with some echoes from the fireworks, but the west end of an upper level offers a good vantage point.