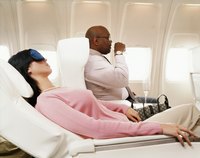 Whether you have been burning the midnight oil and need the occasional midafternoon nap or you simply cannot sleep without total darkness, wearing an eye mask can help you obtain a deep, satisfying rest that will rejuvenate you for the day to come. However, wearing an eye mask properly can be tough if you have never done it or if you feel uncomfortable wearing a strap around your face. Here are some steps to help you wear your eye mask properly to achieve maximum rest.
Things You'll Need
Eye mask with an elastic strap
When you put an eye mask on for the first time, it can seem a little uncomfortable. Before you know it, your eyes are entirely covered and the room has gone dark! Putting the eye mask on properly may help to relieve some initial frustration. In order to put the eye mask on properly, hold it as if it were a pair of goggles. Stabilizing the cloth part against your forehead, gently pull the elastic strap over your head. The elastic strap should fit comfortably at the nape of your neck.
Close your eyes and pull the cloth part of the eye mask gently downward until it feels comfortable over your eyes and nose. Pulling the mask downward will help to keep your eyelashes from being bent uncomfortably upward.
With the mask firmly in place, open your eyes just a bit. You'll want to check to see if light is coming through any open areas of the eye mask. If possible and if needed, adjust the eye mask to compensate for any open areas.
If the eye mask is firmly in place, you should be able to toss and turn to your heart's content without losing your eye mask in your sleep.