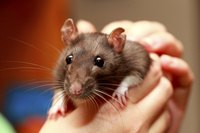 Sociable, loving and clean, rats make good pets, especially in homes with children. As with other rodents, the rat's life span is relatively short; he reaches the status of senior citizen at between 18 and 24 months of age. During this period, he may begin to show signs of aging, including body weakness or paralysis. Numerous ailments can cause paralysis in rats, but stroke, vertebral compression and pituitary gland tumors comprise the majority of cases.
Early Signs of Paralysis
As your rat begins to struggle with paralysis, symptoms may occur gradually. At first, your rat may appear uncoordinated or he may have difficulty moving around his cage. Other noticeable symptoms include difficulty grasping objects, such as food items or climbing surfaces, a reluctance to climb, falling off of objects or the inability to lift a limb. If his hind limbs are affected, his feet may slip and slide as he tries to walk.
Serious Signs of Paralysis
As weakness or paralysis progresses, you may notice your rat cannot groom himself, he may have extreme difficulty moving about his cage, or he may become unable to feed himself. Sometimes rats with front limb paralysis will use their bodies to hold or trap food.
Stroke in Rats
Fairly common in elderly rats, stroke and its associated paralysis occur suddenly. Caused by either a blood clot or a rupture of a blood vessel interrupting blood flow to the brain or spinal cord, paralysis normally occurs on one side of the body. The extent of paralysis depends upon the location of the blockage or rupture. Since the brain stem controls balance, strokes affecting the brain stem can cause your rat to walk with a heat tilt, in addition to affecting his heart and breathing.
Causes of Paralysis
Aside from stroke, the most common causes of paralysis in rats include spinal cord compression and pituitary gland tumors, called pituitary adenoma. Spinal cord compression occurs as the cartilage that separates the vertebrae degenerates, allowing the vertebrae to press against each other. These vertebrae can trap and compress the spinal cord, leading to paralysis. Vertebral compression most often affects a rat's hind limbs. Pituitary adenoma, driven by hormone imbalances, most often occurs in female rats. The tumors compress brain tissue and normally create gradual paralysis of the front limbs. Primarily affecting female rats, high fat diets may increase the likelihood of pituitary tumor development. Other rare causes of paralysis in rats include central nervous system infections, spinal cord tumors, or ingestion of toxins or medications.
Caring for Paralyzed Rats
If your rat displays signs of paralysis, consult your veterinarian to determine the best course of treatment. In most cases, prednisone can ease symptoms and slow progression of the disease. Home care for paralyzed rats may include separating him from cage mates, hand feeding and bathing him.