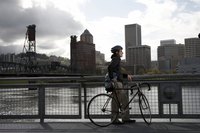 Cutting-edge breweries, distinctive coffee roasters and one of the nation's leading food truck scenes make Portland a hipster haven. Tour on foot or by wheel to experience the city's quirky and pioneering hot spots.
Hipster-Style Pub Crawls
Use pedal power to enjoy Portland's two signature experiences -- biking and craft brew crawls. The BrewGroup offers two-hour rides with stops at three of Portland's newer, innovative breweries within the Old Town District. Its 15-person BrewCycle has its own sound system and coolers, allowing you to bring along your drinks.
BeerQuest offers foot tours through Old Town's cobblestone streets. Guided by a beer guru, tours last more than three hours and stop at three breweries for sampling of 12 brews ranging from pale ales to Irish reds.
The company's Haunted Pubs walking tour visits two Old Town pubs known for paranormal experiences. The pubs are housed in buildings of the 1800s tied to Portland's rough and tumble days. Both pub crawls allow you to discover the city's brew culture while experiencing Portland sights and sounds.
Free and Paid Bike Tours
Join other hipsters in a guided bike tour or take a self-guided tour along Portland's 300 miles of bike lanes, paths and and designated bike boulevards. Rentals are available at shops throughout town or bring your own.
Cycle Portland Bike Tours offers its classic Portland tour twice daily. The tours visit Old Town, the waterfront, Green Park corridor and the artsy Pearl District. The relaxed two-hour tours cover about 7 miles.
The Portland Bureau of Transportation offers free two-hour guided bike tours Tuesday and Wednesday evenings in July and August. Rides leave from various locations to explore city neighborhoods, parks, downtown and historic areas. City bike routes are marked with green signs to guide independent cyclists.
Savory Foodie Tours
Portland's trendy food cart scene includes more than 400 food trucks. Guided tours lead you to the tastiest places in the curbside cuisine scene.
The two-hour Portland Walking Tours' Flavor Street experience lets you sample the specialties of several mini kitchens serving items that include diverse offerings such as Thai pasta and French pastries.
Eat Adventures' weekend driving food tours in the Eat Van take you off the beaten path to sample five Portland food truck favorites. Guided by an expert foodie, participants learn about the entrepreneurs behind the development of the city's food truck culture.
Visit Top Java Joints
Known as the City of Coffee, Portland has dozens of micro-roasters and hundreds of independent java shops.
Taste your way through Portland's coffee shops with Third Wave Tours. Its three-hour-long guided walking tours of downtown, the Pearl District and the Central East side stop at five micro-roasters and cafes for sampling. Go behind the scenes to meet entrepreneur and rock star baristas.
Or plot your own downtown coffee tour with an online map from Travel Portland. Java sites to sample include Spella Cafe, near Pioneer Courthouse Square, which features rare bean varietals. In the West End, Heart Coffee Roasters is noted for its minimalist interior and complex coffee blends with hints of floral and berry flavors.