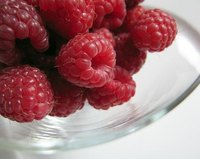 Full of antioxidants, vitamins and fiber, raspberries are delicious eaten fresh or added to recipes. When perfectly ripe, they have enhanced flavor, texture and health benefit. Raspberries spoil quickly so it is important to select those that are at their prime freshness to get the most value for your money. There are a few tips to remember to ensure you get the best possible product the next time you are shopping for this type of berry.
Look for raspberries that are bright in color, whether they are the red, black or golden varieties. Be sure there is no white coloring remaining in the flesh, which may indicate that they were picked before they were ripe.
Select berries that are plump and firm, with no visible blemishes. The hulls should not be attached, fresh raspberries release from the hull when they are picked at proper ripeness.
Opt for raspberries that have no noticeable moisture in the container, which can cause premature molding. Storing berries wet will cause them to spoil more quickly, so wait to wash them until right before use.
Check the bottom of clear plastic containers for raspberries that might contain mold or blemishes. The container should be shallow and the berries packed loosely so they are not smashed.
Choose containers that do not have any visible staining on the inside, which can indicated that some of the berries have blemishes or bruising.
Shop for raspberries one to two days before you plan to use or freeze them. They spoil quickly and may exceed their prime condition after a couple of days.