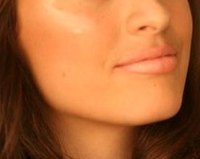 If you envy how flawless celebrity lips seem to be, don't despair over what you think are your own hopelessly imperfect ones. Actresses and models hire personal makeup artists who know the tricks of the trade. If you still aren't convinced that anyone can look so polished with only a little bit of assistance, take a look at photos where celebrities get caught without a stitch of makeup on. What appear to be plump, lush lips at an awards ceremony may very well be a smaller--even rather ordinary--mouth while walking the dog or running errands. Who's to say that some of the most admired women in Tinseltown are not just like you underneath the glitz and glamour. With the techniques outlined here, even you can have supple lips anytime you want.
Things You'll Need
Petroleum jelly
Toothbrush with soft bristles
Facial tissue
Lip balm or moisturizer
Silicone-based makeup primer
Foundation
Waxy lip pencil
Slather petroleum jelly generously onto makeup-free lips. With a soft-bristled toothbrush, scrub lips for about two minutes. This technique will loosen dead skin on your lips, guaranteeing a smooth base for color. Simply wipe away the petroleum jelly with a tissue when you are finished. You may also exfoliate your lips after you've been in the shower for at least five minutes. All you need in this instance is the toothbrush or a clean washcloth, as the dry skin on your lips will sufficiently have loosened up by then.
Allow a lip balm or moisturizer to seep into lips prior to makeup application. You may pat on the product as you prep the rest of your face for color. This way, your lips will surely be ready by the time you are through applying makeup on other parts of your face.
Dab a silicone-based makeup primer on top of your lip line if you want to prevent a dark color from feathering or bleeding. Make sure to blend the primer with a clean finger so that it fills in the fine lines surrounding your lips as well.
Cover lips with the same foundation you use on your face so that you have a blank canvas for your lip color of choice. You can skip this step if you don't mind your natural lip color blending with that of your lipstick; however, to create either a nude or a classic Old Hollywood-style lip, it is essential that you erase your lips. This allows you to draw and paint on a new shape and color.
Line and fill lips in with a creamy lip pencil. You may use one that is nude, if not the same shade as the lipstick, gloss or stain you will be wearing. This is not a must at all times, but the waxy texture of the pencil helps your lip color stay on longer by giving it a base. There are even clear lip pencils, which are designed solely for this purpose if you wish to appear as though you haven't lined your lips at all. As for colored lip liners, they are an essential tool for adjusting your lip shape if necessary.