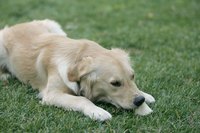 Myasthenia gravis is a neuromuscular disease that can affect dogs of any breed but affects some breeds more than others. A dog can be born with this condition or can acquire it as an adult. Depending on your pup's particular form of this disease, your vet will develop a treatment plan using medication to control his symptoms. Myasthenia gravis sometimes resolves itself over time.
Meet Myasthenia Gravis
Myasthenia gravis is a disease that causes muscle weakness in pups when the nerves in their bodies can't properly communicate with their muscles. This is caused by a lack of the chemical acetylcholine, which helps to transmit messages from your pup's nerve cells to his muscles. Symptoms of myasthenia gravis include extreme weakness and fatigue, especially after exercise; trouble swallowing; regurgitation after eating; and vocal changes. Your vet can properly diagnose this condition with blood tests, chest radiographs, muscle biopsies and a Tensilon test. The Tensilon test involves giving your pooch an injection of edrophonium chloride, which temporarily resolves the symptoms of myasthenia gravis in pups with the disease.
Acetylcholinesterase Inhibitors
The main treatment for myasthenia gravis in dogs is the use of drugs that inhibit the production of acetylcholinesterase. Acetylcholinesterase is the chemical produced by the body to break down acetylcholine, the substance that Fido's nerves use to stimulate his muscles. This allows the limited amount of acetylcholine in dogs with myasthenia gravis to work for a longer period of time, allowing the muscles to function correctly. Acetylcholinesterase inhibitors are basically a longer-acting version of edrophonium chloride. Your vet will prescribe these drugs to your pup and instruct you how to use them.
Immunosuppressant Drugs
If your pup doesn't respond well to acetylcholinesterase inhibitors, your vet may prescribe a type of drug like a steroid to suppress his immune system. This type of therapy works well only in dogs whose immune systems are attacking their own acetylcholine receptors, mistaking them for disease-causing agents. These drugs usually won't work with the congenital form of this disease but usually work with the acquired form. Unfortunately, aspiration pneumonia occurs frequently in dogs with myasthenia gravis, due to problems with their esophagus when eating. Dogs fighting such an infection can't take immune-suppressing medications. Your vet will determine what course of drugs to treat your pooch with.
Surgery and Supportive Care
Some cases of myasthenia gravis are caused by a tumor on the thymus gland. The tumor can be surgically removed. For a dog who cannot eat properly, your vet might insert a feeding tube to provide nutrition. Your vet might also recommend elevating your pup's head when he's eating to ensure that he receives the proper nutrition he needs without aspirating his food and water. If your pup has aspiration pneumonia, he may require hospitalization to get the medication and intravenous fluids he needs to recover. For dogs with the acquired form of myasthenia gravis, the prognosis for recovery is much better than for those with the congenital form of the disease.