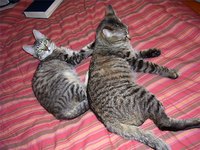 When Fido and Fifi come home with all kinds of nasties in their fur, you can rest assured that there are usually ways and means to get them out. Whether it's some horrid gooey stuff or a really atrocious smell, there's a solution and only in a very rare case would Fido or Fifi have to go to the pet groomer to find it. In these simple steps are the secrets to getting your pets happy and clean.
Deal with paint or tar. If pup or kitty will let you, try washing the affected area with vegetable oil. Sometimes this will loosen it up so you can get it off. Follow with a pet shampoo afterward to remove the oil. If this doesn't work, try to get underneath the paint or tar and clip the fur gently away from the skin. It isn't good for your pets to leave these products on them.
Remove burrs with a short blast of cooking spray. If this freaks your pet out, spray it on your finger and then work it into the fur around the burr. Usually it will allow you to work the burr out with your fingers. If it's matted badly, you'll need to cut it out. If the pet is covered in burrs, she'll need to go to the groomer to have them removed unless you have a great deal of time and patience. Don't leave these on the pet--they cause a lot of skin and mouth problems.
Don't try to get a tick off an animal. In fact, it's best that you don't ever touch a tick at all. Take a pair of tweezers or a tick remover and grasp the tick firmly by its body. Pull with even, steady pressure until it comes out. You can also try to slather the tick with petroleum jelly so it's completely covered. It should back out to get air. You can also submerge the part of the pet with the tick in a bathtub--if it's in a spot you can do that on--to drown it.
Take gum off of the dog or cat with vegetable oil. Cover the gum with the oil and let it stay on for about 15 minutes. This sometimes makes it slide right off. If this doesn't work try vinegar--any kind will do. Vinegar can make gum and other sticky substances dissolve if vegetable oil can't. Just work it into the gum and it will come off. Don't rub it roughly into the animal's skin as it could burn him.
Remove tangles and mats in animal fur with cornstarch. Sprinkle the matted or tangled area with cornstarch. Rub it into the mat with your fingers. If it isn't too bad, this may untangle it. If not, take scissors and gently cut through the mat down the center or in two or three places if it's big. If you're gentle and take your time, you can often work the mat or tangle loose this way. To read more about caring for your pet, go to ThePetCenter.com.
Remove skunk smell with 1 quart of hydrogen peroxide, 2 tbsp. dish liquid and 1/4 cup of baking soda. Wet the pet with this and leave on for 5 minutes. Rinse well. Repeat if needed.