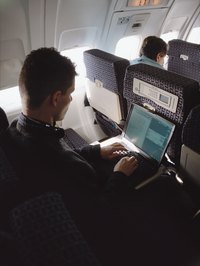 Whether they involve traveling to France on a business trip, or to Kenya for a safari vacation, trans-Atlantic flights are tough on travelers, both mentally and physically. Savvy globetrotters book wisely, pack the right in-flight gear and care for their health throughout the long haul. With a little advance planning, you'll minimize the misery of a trans-Atlantic flight and arrive at your destination ready for adventure.
Book Wisely
A lousy seat causes discomfort on any flight, but when you're traveling almost 11 hours from Los Angeles to Paris, it has an even greater impact on your well-being. Book an aisle seat if possible; it allows room to stretch, and you won't have to climb over seat mates during the flight. Avoid seats near the lavatory, where passengers line up in the aisles. Seats in the last row usually don't recline, and those in exit rows don't allow a carry-on at your feet, so avoid those as well. Some airlines offer upgraded seats with extra legroom. The additional cost for these can be minimal and well worth the expense during a long trip.
Stay Physically Healthy
Deep vein thrombosis may occur when airline passengers remain seated for many hours, which causes blood to pool and clot in the veins of their legs. Clots cause pain, redness and swelling and may move to the lungs, which is potentially fatal. Elderly or obese passengers are more likely to develop DVT. Other risk factors include a history of blood clots, use of estrogen-based birth control pills, recent surgery and cancer. Avoid this dangerous condition; get up and stretch periodically during the flight or take a short walk down the aisle. Talk to your doctor before flying if you have an increased risk.
Stay hydrated to avoid headaches and lethargy. Bring a water bottle and sip it throughout the flight, even if you don't feel thirsty. Avoid caffeine and alcohol; both cause dehydration. Another culprit is sodium, which in-flight meals include in abundance. Bring your own snacks and meals and skip the airline's fare.
Stay Emotionally Healthy
Pack plenty of goodies to keep you entertained in-flight. Upload ebooks, music and movies and make sure to fully charge electronic items such as laptops, tablets and phones before boarding. Flip through the diverse offerings inside your seat pocket catalog, complete a knitting project or work on a crossword puzzle. Don't forget your headphones, which help drown out pesky cabin noise and leave you prepared for the in-flight movies.
Long trans-Atlantic flights can wear you down emotionally and cause anxiety. Close your eyes and do some deep breathing exercises, or try some calming meditation. Revive yourself with some quick personal care. Brush your teeth and hair, wash your face and touch up your makeup. You'll feel refreshed and will arrive at your destination looking perkier.
Sleep Comfortably
The flight will seem shorter if you can get some sleep. An inflatable beach ball can be used in place of a travel pillow. Blow it up a little to use behind your neck, or inflate it all the way so you can place it on your lap and lean forward to sleep. Some flights can be chilly, so carry a small blanket or jacket on-board for your nap. If you struggle to sleep during flights, consider an over-the-counter or prescription sleep aid. Talk to your doctor beforehand, and test out any new medication prior to flying so you'll know its effects on your body before your trip.