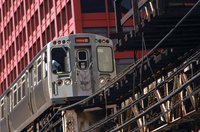 With 144 rail stations all over Chicago, Illinois, riding the "L" trains is one of the most convenient and efficient ways to get around the city. Although the "L" got its name because of the large number of elevated tracks, the Chicago Transit Authority (CTA) considers the entire train system as the "L," which encompasses subway and street-level trains as well. As of 2013, the CTA's Ventra contactless card system gives you multiple options to pay your fare and board with a simple tap of your card.
Things You'll Need
Make your way to the nearest "L" train station. You can get an "L" train map from the airport, most retail shops and the CTA website to help you find the closest station to you. CTA also has a mobile site you can use on your cell phone when you're on the go for point-to-point directions.
Find a Ventra ticket vending machine in the train station. Each station has several machines. Select "New Ventra Card" on the machine's main screen. There is a one-time fee for this reloadable card, but that money will be refunded immediately as transit fare on your card if you register it online within 90 days. Alternatively, you can use a personal contactless debit or credit card, or you can purchase a single ride disposable ticket. However, disposable tickets have additional fees tacked on.
Select "transit pass" or "add transit value" on the ticketing machine. If you are visiting Chicago for a few days and plan to use public transportation primarily, you have the option of 1-, 3- or 7-day unlimited ride passes. Otherwise, you can simply add any amount of money you would like to the Ventra card. You can pay with cash, debit or credit cards.
Follow signs for the train platform in the direction you wish to go. Look for maps displayed in the station to make sure you are on the correct side of the platform. Some CTA stations have staff that can help you if you're not sure you're going in the right direction.
Tap your Ventra card to the Ventra card reader at the turnstile. You will hear a distinct sound indicating that your card was read. Wait for the sound to repeat, along with a screen that reads "Go," then pass through the turnstile. If the reader says, "Stop," there will be an additional note informing you of a problem with your card, such as insufficient funds, or instructing you to tap again if it was not read properly.
Wait for your train behind the platform edge. When the train arrives, wait for passengers leaving the train to exit before boarding. Ride the train to your selected stop or to a station where you need to transfer trains before reaching your final destination.