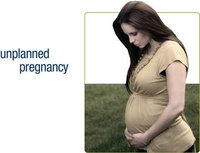 Effectively dealing with an unplanned pregnancy is a challenging and distressing task. While there is no cookie-cutter approach to dealing with an unplanned pregnancy, everyone has options and should consider each option thoroughly before making a decision.
Consider your options. No matter your age, race or financial situation there are three general options for dealing with an unplanned pregnancy: raise the child, give the child up for adoption or terminate the pregnancy.
If you choose to continue the pregnancy with the intention of raising the child you should take into account your current lifestyle, support system and financial situation. Do you have the means and time to raise a child? Also consider your support system; do you have a partner, friends and family that will help you or is raising a child something that you will have to do on your own?
Consider putting the child up for adoption. How would feel if you decided to give the child up for adoption? Carrying a child for nine months and then giving them up for adoption is very emotional and has the potential of causing a life full of regret. On the other hand, it allows you to give your child a life that you may not be able to give her on your own. Ask yourself if you would be able to deal with the decision at an emotional level now and in the future. Contact your doctor or your local social services department. Counselors will be able to talk you about the decision and put you in touch with a reputable adoption agency if you decide to move forward.
Consider terminating the pregnancy. When considering abortion as an option, ask yourself if you would be able to handle the situation emotionally. Many women end up being content with their decision to terminate a pregnancy while others end up regretting their decision and are left with feelings of depression and guilt. Consider your personal and religious beliefs that may or may not cause you to regret the situation. It is also important to consider how far along your pregnancy is. For example, once you are eight weeks into the pregnancy it becomes increasingly dangerous to have the procedure. Consult a physician to discuss your options.
Compare each option. Make a list of pros and cons for each, based on your lifestyle, financial situation, religious and moral beliefs. Determine what type of support system you would have with each decision when weighing the pros and cons of each option
Research your options. When it comes to adoption and abortion especially, there are legal and financial considerations that need to be determined and may effect your decision.
Envision how your life will be with each option. Imagine how things might change if you decide to move forward with the pregnancy. Are you okay with these changes and how they will effect your life goals? Also ask yourself how you would feel emotionally if you decided on adoption or abortion. Are your values and religious views in tune with the repercussions? Be sure to take enough time for yourself to envision each change and determine how you feel about them.
Consider discussing the situation with your partner. While every situation is different, there are pros and cons to seeking input from the father. Determine which route is best for you and proceed accordingly.
Talk to someone. Discuss the situation with an understanding friend or relative that you trust. If you are unsure who to talk to, call a hotline or health center and ask to speak with a counselor. Many times unbiased advice from a person who is knowledgeable about the situation and emotionally removed is extremely helpful.
Avoid consuming alcohol, recreational drugs or smoking cigarettes until you make a decision and follow through with it. Seek medical attention from a health care provider and inform them of your situation. Ask them dietary questions and situations to avoid until you make a decision.
Make a decision and stick to it. At the end of the day it is your life and your decision on how you would like to proceed. After examining your options, speaking with a confidant and taking time for yourself, determine what alternative is best for you and move forward.