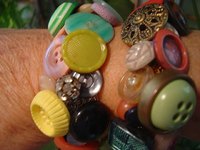 You don't have to be fabulous with a crochet hook to crochet a bracelet with vintage buttons. Only be willing to give it a try. This is an inexpensive project, so if you don't like your first results, try again. Practice doesn't always make perfect, but you can come pretty close! :) Please read on.....
Things You'll Need
old vintage buttons
elastic cording
nylon thread & needle
size 5 crochet hook
To crochet a bracelet with vintage buttons, first you must single chain stitch a length enough to fit around your wrist, plus an additional 5 stitches to fit comfortably. Join this chain into a circle using a slip stitch. (See link below under resources for easy to understand pictures and instructions for crocheting).
Next, widen the elastic band of your bracelet by completing 4 to 5 rows of double crochet. Once band is finished you're ready to start adding the vintage buttons.

Thread your needle with the nylon thread. Double this and tie a knot by making a loop at the end. Secure your first stitch on the inside of your crochet bracelet band wherever you wish to start sewing. Begin adding buttons. Secure each vintage button twice before moving on to the next one.

When you've filled all the available space on your crochet bracelet, finish it off by tying the thread on the inside of crocheted band. Wear your one-of-a-kind crocheted vintage button bracelet proudly or give as a gift for someone special. Good job!