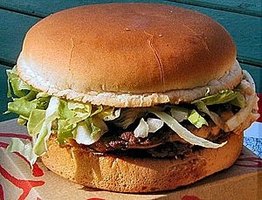 There are as many different ways to prepare hamburgers as there are many different fast food establishments that make them. The most important part of making hamburgers, is to make sure that they are not hard or fall apart in cooking. Follow these steps to make a scrumptious meal.
Things You'll Need
Chopped meat

Eggs

Water

Chopped onion
Ketchup

Bread crumbs

Mixing bowl

Plate
Gathering the Ingredients
Put the ground beef in a mixing bowl. Crack a raw egg and add it to the chopped meat. Add salt and pepper, about 1 to 2 tbsp. of water, ketchup and bread crumbs or seasonings of choice. Use a wooden spoon or your hand to lightly blend all the ingredients together.

Mix together lightly (do not pack) with one hand (as if squashing the meat with the ingredients) until all are blended together. Wash your hands as they will be greasy.

Have the cold water running in the sink, wet your hand under the faucet, and lightly grab a handful of the prepared chopped meat. This water will help to add some water to each patty (as it is being formed), and will make soft burgers. ''Lightly'' press the patty together and shape it with both hands until it looks like a hamburger. Place on a plate and repeat the process for the remainder of the chopped meat..

Cook the burgers to your liking.
Tips & Warnings
The trick to getting a soft hamburger is by not packing the meat tightly and the water.
Each time you pick up meat to form the hamburger, run your hand under the cold water. This will keep the meat from becoming too hard when cooked or grilled.
Photo Credit http://en.wikipedia.org/wiki/Image:Patties.jpg,http://en.wikipedia.org/wiki/Image:Ground_beef_USDA.jpg,http://en.wikipedia.org/wiki/Hamburger,
Promoted By Zergnet