A rock walkway adds a natural element to the landscape, while protecting turf from trampling and your shoes from mud. A rock path also allows rain to seep into the ground, preventing runoff that can occur with a solid surface walkway. Building a path from natural rock requires some work, but it pays off with a durable, attractive walkway that will last for years.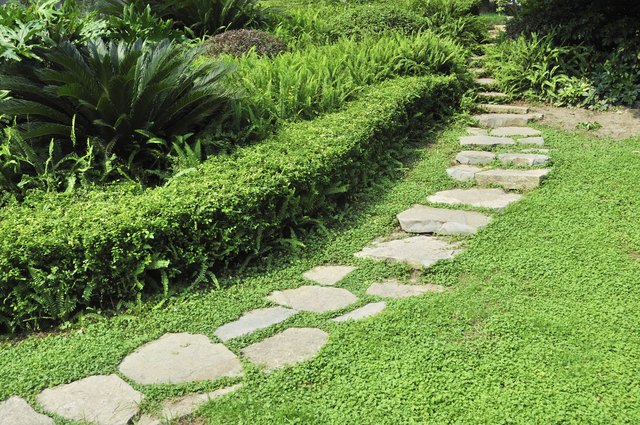 Types of Rocks for a Walkway
When looking for rocks to build a path, you'll find numerous types available. Basalt, granite, marble and slate all make excellent, strong choices for a walkway. Make sure any stones you select measure more than 2 inches thick to prevent instability and cracks. For a pathway, look for flagstones--rocks cut into a flat slab. Choose rocks that fit the width of your path and that have a similar size. For example, if you want a 3-foot wide path, select rocks that wide or two 16-to-18-inch wide rocks.
Tip
Shop for stones at a local quarry to save money and use elements native to your area.
How to Install a Rock Walkway
With some basic materials and a little patience, building a rock pathway is an easy weekend project.
Things You'll Need
Tape measure

Rocks

Trowel

Spade
Tip
If you don't have a tamper, many hardware store rent tools and should have one available.
Step 1: Measure the Walkway
Measure the length of the path in inches. Divide the length by the average rock size in inches when selecting your rock. This will give you a rough idea of how many you'll need with close spacing.
Step 2: Find the Layout
Lay your rocks on the ground where you want to place the walkway. Move them around and place shapes like a puzzle until you have the look you desire. Leave about 3 inches between each rock for grass or plants and to provide support so the rocks don't shift.
Step 3: Make the Outlines
Use a hand trowel to cut into the ground around each rock, creating an outline. Cut as close to the rock as possible and around all of its edges. Try not to disturb the area that will be between each rock. This turf will help hold the rocks in place.
Step 4: Move the Rocks
Remove the rocks. Place them next to the walkway in the same pattern so you can see them as you work.
Step 5: Excavate the Walkway
Cut out the grass and soil inside of each outline using a spade. Measure the rock that will fit in the spot to determine the depth. Add 1 inch to the rock depth to determine the cut-out depth. For example, if a rock measure 3 inches, remove the soil to 4 inches deep.
Tip
If you remove the sod carefully and water it, you can use it to fill around the rocks if needed. You can also use it to repair damaged areas of your lawn.
Step 6: Prepare the Ground
Check the excavated area with a level. Remove soil or add some back as needed to level the dirt. Tamp the dirt to compact it. Fill each hole with a 1-inch layer of sand. Tamp and level the sand.
Step 7: Set the Rocks
Place the rocks into the holes one at a time. The rocks don't have to sit perfectly level since they will have rough, imperfect surfaces. It is best, however, to avoid having any lip that could trip someone. If a rock won't sit right, you might have to remove a little sand and make small adjustments as you go.
Step 8: Finish the Path
Pour sand around any edges of the rock that have gaps between the rock and the turf. This prevents shifting. If you reserved some sod, cut small sections to fit on top of the sand in the gaps. While not necessary, it fills the gaps quicker and gives a more finished appearance without waiting for the grass to spread.