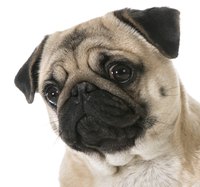 Necrotizing meningoencephalitis (NME), also known as pug dog disease, was first discovered and diagnosed in pug dogs in the 1970s. Since 1989, other breeds of dogs have been found to have the disease, including the Maltese, the Chihuahua, the Pekingese, the Shih Tzu, the papillon, the Coton de Tulear, the Boston terrier and the French bulldog. NME predominantly affects small breeds of dogs and most commonly occurs in females.
Age of Onset
Necrotizing meningoencephalitis occurs mostly in younger dogs, with typical age of onset of clinical signs ranging between 6 months of age and 7 years of age. In a study of pug dogs published by the National Center for Biotechnology Information in 2008, the mean age of onset in pug dogs was 18 months of age.
Clinical Signs of Disease
Predominantly occurring in the gray matter of the forebrain, necrotizing meningoencephalitis creates symptoms associated with other neurological disorders. Signs of the disease include seizures, circling or pacing, changes in behavior and altered mental states. If the brain stem is affected, a dog may have difficulty walking.
Diagnosis of NME
Your veterinarian will perform a thorough examination of your dog, including a blood analysis and tests for infectious disease. When a disease affecting the brain or nervous system is suspected, the vet will also perform an MRI and cerebrospinal fluid analysis, also known as a spinal tap. A surgical biopsy of brain or spinal material may also occur to confirm diagnosis.
Treatment Options
The focus of treatment for necrotizing meningoencephalitis is immunosuppression. Most commonly, corticosteroids such as prednisone are administered initially at high levels for two weeks, then gradually tapered down to the lowest effective dose. Treatment may last for months, or low-dose treatments may continue long-term. Dogs typically respond well to corticosteroids, but a variety of other drugs may be administered if your dog does not respond or has adverse reactions to these drugs. Other medications used for treating necrotizing meningoencephalitis include cytarabine, cyclosporine, lomustine, leflunomide, mycophenolate, azathioprine or procarbazine.
Expected Prognosis
The long-term prognosis for dogs diagnosed with necrotizing meningoencephalitis is poor. While the progression of clinical signs may slow with treatment, eventually advancement of the disease causes death or leads the dog owner to euthanize within one year of diagnosis. In the 2008 study of pug dogs, the mean survival time was 93 days, although some dogs survived almost two years. Typically dogs who are receiving treatment, particularly with anticonvulsive drugs, experience the longest survival periods.