Brody Jenner is the son of Olympic Gold medalist Bruce Jenner. He is a laid-back California beach guy, whose nonchalant style can be easily attained. Brody has a casual and confident swagger to himself. He is not the type who has to be in a name-brand suit to feel that he looks good. His confidence shines through his wardrobe. He can wear just about anything, and still catch the eye of everyone in the room.
Things You'll Need
Layering T-shirts
Jeans
Dickies work pants
Converse
Sweater
Two piece suit
Start from the basics. You don't have to be flashy to dress like Brody. This look is affordable and comfortable. Look for long and short sleeved layering T-shirts. Pair them with relaxed fit jeans, and your good to go.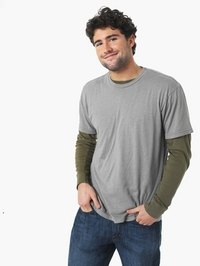 Be stylish but comfortable. Go for a traditional button up shirt, without the traditional part. Pick a shirt that has a design or pattern such as plaid or flannel. Add a pair of black or khaki colored Dickies, with some Converse sneakers.

Adapt to the nightlife. For a night on the town, stick with dark colors. Relaxed fit jeans, with Converse, and a matching hoodie will make a statement. Make sure the hoodie has a logo, or design on it, because it will be the centerpiece of your outfit.

Add a long sleeve fitted sweater to any pair of jeans or trousers to dress them up. Choose colors such as black, blue, and gray, because they appear more formal.

Be dressy but not traditional. You can wear a suit without feeling restricted in it. A good way Brody has adapted to the formal wear rule is by taking out some of the most uncomfortable elements. Wear a nice suit, but try a two-piece instead of a three. Don't button your collar all the way to the top, and most importantly don't wear a tie.