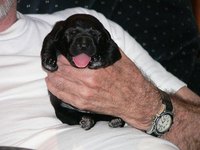 Caring for newborn puppies is important to ensure their health and well-being. Your new puppies need to get plenty to eat, so make sure to provide their mother with plenty of fresh water and quality food. Make the food and water available to her all the time, as her needs will be much greater now that she is nursing puppies. Most dogs deliver puppies without incident. However, if it is possible for you to help care for newborn puppies during delivery, you can ensure the safety of the mother and each puppy.
Things You'll Need
Birthing box
Clean bedding
Provide a wooden box large enough to accommodate all of the puppies. It should have sides high enough to prevent the young pups from getting out but not to high to prevent the mother from getting in and out for eating or going outside to use the bathroom. The box needs clean towels, rags, or other soft absorbent bedding that you can easily change as the puppies soil it.
Make sure the mother breaks the amniotic sac immediately after birth so the puppy can breathe. If the mother does not do this quickly, do it for her to prevent each puppy from suffocating. The mother should try to lick each new puppy clean and nudge it towards nursing between the births. Gently rub the puppy dry, if the mother does not, and place it near a nipple. Make sure all of the puppies are nursing well, as their bodies need the colostrums for their immune systems.
Handle newborn puppies as little as possible for about 24 hours to prevent the nervous mother from trying to move them. The next day, check each puppy over for problems or deformities. You will want to socialize your puppies by handling them about once a day until their eyes open and they begin exploring. When they reach this stage of development, you should handle them often.
Take newborn puppies to a veterinarian if they display continuous crying, diarrhea, physical defects, or fail to gain weight.
Weigh your puppies on a baby scale or postal type scale for tiny breeds daily if you have concerns about them nursing and gaining weight. If you notice a puppy is not gaining weight, consider supplementing its diet with bottle-feeding, using a commercial puppy formula.