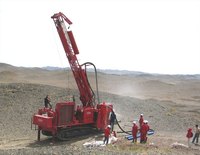 Mining royalties are a way of hopefully profiting from the mining industry without owning shares in a mining company that actually digs the stuff out of the ground. Mining royalty companies have the rights to parcels of land that other companies lease from them and do the mining. The royalty company is paid a percentage of the sales from the mining company. This percentage is called a royalty.
Find a stockbroker or investment bank. Almost all brokers are online these days. A few to check out are Etrade, Scottrade, Ameritrade and Charles Schwab (see Resources below).
Research mining royalty companies. Two stocks that are mining royalty companies are Royal Gold (RGLD) and Tanzanian Royalty Exploration Corp. (TRE). These are only suggestions and not a recommendation to buy. There are many others to choose from. Most brokers have stock screener programs that will return plenty of detailed information on royalty companies that turn up in your search. You can always go to each company's website for their information as well (see Resources below).
Set up your stock purchase. Determine which company or companies you want to own shares in and pull up a quote in your brokerage account so you'll know how many shares to buy. You can place the order online or you can call in to have a live broker place the order for you. Once the order executes, you will be a shareholder in mining royalties.