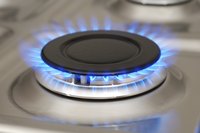 Natural gas is a growing commodity that offers investors a variety of options for portfolio diversification. As a major source of power generation, natural gas is often preferred to oil or coal, according to Commodity HQ. Before investing in this commodity, however, it is important to research and understand your investment options.
Futures
Natural gas futures are contracts between two parties to buy or sell natural gas contracts at a predetermined price. Futures are highly speculative investments for seasoned investors that offer the potential for profiting on both upward and downward market fluctuations. Futures contracts for natural gas are traded on the New York Mercantile Exchange. The Commodity Futures Trading Commission and the National Futures Association are two government bodies that regulate futures trading. Their websites offer information for beginners and a free search to help you locate registered trading firms with a clean record and experience who can help you get started.
Stocks
Investors with a lower risk tolerance can invest in natural gas indirectly by purchasing stock in companies in charge of producing and exploring for it. Most of these companies diversify into many forms of fuel production, which may dilute the rewards of investing purely in natural gas prices; however, the opportunity exists to invest in companies that solely produce and explore for natural gas. Several of these companies exist, including PetroHawk Energy Corp., Stone Energy Corp. and McMoran Exploration Co. These stocks can be traded, added to a portfolio or integrated into a mutual fund.
Exchange-Traded Funds
According to Nasdaq, an exchange-traded fund, or ETF, is a fund that tracks indexes such as the Dow Jones or S&P 500. There are several options for investors seeking an ETF in natural gas. Although many of the funds gain exposure to natural gas through futures contracts, First Trust ISE Revere Natural Gas ETF gains exposure through equities by investing in the stocks of companies that explore and produce natural gas, according to Commodity HQ. Unlike index funds, ETFs are traded throughout the day and can be traded or held just like a stock.
Monitoring Your Investment
Futures prices fluctuate daily as many commodities do, as a result of external events, supply and demand. Company stocks in the natural gas industry are generally less volatile when compared to futures prices but also fluctuate slightly from day-to-day. Exchange-traded funds operate much like stocks and follow the same trends. You can monitor the daily fluctuations and overall progress of your natural gas investments by referring to the commodities, stock, or ETF charts in the financial section of your daily newspaper or by typing in the symbol of your stock, futures or ETF symbol in the search bar of a financial website such as Bloomberg or MarketWatch. All three of these investment types can be either held or traded. With the help of a registered trading firm or a broker, you can better understand which investment path makes sense for your personal goals and risk tolerance.