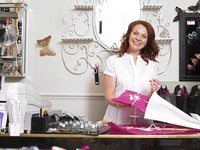 Everywhere, businesses are going green. Helping the environment, reducing day-to-day expenses, and attracting eco-conscious consumers, are just a few of the reasons a business may decide to go green. There is more than one way to become a certified green business. Because of the increased popularity of eco-friendly business practices, companies can now become green certified via the Internet. In addition, companies can also choose to pursue LEED certification.
Things You'll Need
A registered business
Green ideas or initiatives for your company
Financial means to implement ideas
Decide what type of green initiative(s) you want your company to implement. Your initiative may affect the type of certification your business pursues. If you want your business to have a general green certification that is recognized in the United States and Canada, and can be earned and tracked online, you should proceed to Step 2 . If you want your business to focus on sustainable building strategies, and have a green building LEED certification, which is internationally recognized, you should proceed to Step 3.
Become a member of the Green Business Bureau (gbb.org). The Green Business Bureau is a program that helps increase the visibility of green businesses while providing step by step support for achieving specific green initiatives. Businesses can track their progress online and receive recognition for each successful green initiative implemented. Companies receive a membership seal for their website, which allows customers to view and track their eco -friendly business practices.
Visit the Green Building Certification Institute's website to learn about Leadership in Energy and Environmental Design (LEED) rating system and application process. The LEED rating system is based on a 100 point system with each type of initiative worth a different point value, based on its overall eco-friendliness. Buildings that are eligible for this type of certification must be offices, institutions, retail or services establishments, or residential buildings with a minimum of four stories.
Go to LEED online (leedonline.com) to register your green project. Here you can submit project documentation for U.S. Green Building Council review, coordinate resources among you project team members, submit technical inquiries, and track your progress toward LEED certification.