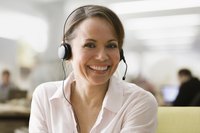 Credit card late fees add to your overall balance and can even trigger higher interest rates. No approach -- regardless of how friendly and straightforward -- provides a certain way to secure the waiver of a late fee. Still, certain steps should be part of any such effort.
Get Caught Up
If you haven't already made your monthly payment, make it, even though it's late. Set up an automatic payment plan for future payments to show the bank you're serious about not missing payments again. This will better position you to get the late fee waived.
Call Customer Service
Call the customer service number on your credit card statement, explain your circumstances and ask for the late fee to be waived. If you're a long-term customer who is usually timely with your payments, you're more likely to get a pass on a single missed payment than if you're habitually late or frequently exceed your limit.
Be Nice
Establish a rapport with the customer service agent and ask rather than demand. Uses phrases such as "I really hope you can help me" or "I could really use a hand with this issue." Customer service reps usually have some amount of discretion in waiving fees, and if you treat them kindly, you're more likely to achieve a better outcome.
Talk to a Manager
If a service rep can't help you, ask to speak to a manager or someone with decision-making authority. Be respectful in making the request and thank the first rep for her time. For example, "I really appreciate you looking into this for me and trying to help. Is there another person in your organization you can direct me to who might be able to approve my request?"
Put It in Writing
If personal calls don't get you anywhere, write a letter to the credit card company outlining your request. Include your account number, explain your reason for the late payment and note your payment history with the company. For example, "As you will note, I have been a card member for three years and have never missed a payment before."
Threaten to Cancel
Credit card companies want to keep your business, and threatening to cancel your card can make the company more likely to grant you some leeway. Be short and to the point. For example, "I'm sorry that we can't resolve this issue amicably. Can you transfer me to a supervisor that can help me take the steps necessary to cancel my card?"