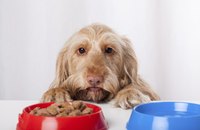 Feeding your dog at a discount doesn't mean you need to sacrifice quality. You can find top brands, solid nutrition and even holistic recipes at low prices. It just takes a bit of shopping know-how to keep your pooch well-fed without bleeding your wallet dry.
Discontinued Items
Some of the clearance items you'll find at pet stores and online include food brands or flavor varieties that are being discontinued. It doesn't necessarily mean that brand or flavor will no longer exist, so check with the company if you are concerned about getting your dog started on a food that may soon be out of circulation. It may just mean that particular store wants to clear its stock to make way for new items.
Check the dates on discontinued clearance to ensure freshness. If your dog is sensitive to having his food rotated, this may not be the best choice; some dogs, however, do well on periodic food rotation. Check with your vet if you have concerns about tummy upset.
Short-Date Sale
Roam through the aisles of a pet supply store and you may see tags advertising a discount on one or more specific bags of food for a short-date discount. Don't wait for a sales associate to notice and mark bags or cans with a clearance tag. If you find items within a few months of the expiration date, ask if there's a short-date discount as retailers most likely will want to clear these products off their shelves.
Make sure that bags of dry food with a close sale date are not damaged, as the food quality could have been compromised; use up the bag within six weeks of cracking it open. Buy only as much short-date food as you can use by the best-by date. If any food smells or looks funny, toss it out regardless of the date.
Online Deals
When the convenience of Internet shopping coupled with a boom in spending by pet parents, online retailers began competing in earnest for the dog lover's dollar. Not only is food bought from online retailers usually delivered swiftly to your door, which is a convenience for heavy bags of kibble and cases of cans, but many apply additional discounts if you sign up for repeat delivery.
Just make sure your pooch has taken the food for a taste drive before you begin the monthly drop-offs on your doorstep. Comparison shop online and challenge your retailer of choice to meet any lower advertised price.
Buy in Bulk
If you're feeding multiple canine mouths or large breeds, try buying in bulk for a better deal. You can do this at warehouse stores while stocking up on toilet paper or giant boxes of frozen chicken breasts, or you can try feed stores that specialize in catering to animals that eat grain and hay.
Feed stores will often extend the same volume discounts to dog food as they apply to livestock supplies, and may be able to order your favorite kind of kibble if they don't have it in stock. Just ensure that you have the storage capacity to keep food airtight and fresh, keeping kibble in the original packaging if it's stored in a plastic bin, until your dogs consume the stash.