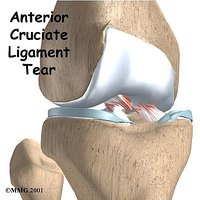 The Anterior Cruciate Ligament, or ACL, is one of two ligaments that form a cross pattern connecting the tibia (shin bone) to the femur (thigh bone). Athletes often tear this ligament when participating in sports such as gymnastics, basketball, football, figure skating, skiing, soccer, track and field, and even dance and cheerleading. Non-athletes can also injure the ACL in every day life by tripping, stepping off of curbs, and any other activity that twists the knee in an abrupt manner.
Surgical techniques to repair ACL injuries have greatly advanced in the last 25 years, but the reconstructive surgery still requires physical therapy and a recovery period. Learn what you can to speed your recovery and get back into life.
The most important step is to listen to and follow your doctor's and physical therapist's instructions exactly as they are given.
Immediately after surgery, your first concern will be pain management. You may have outpatient surgery and go home the same day. Older patients or those with complications may require a short hospital stay.
Your doctor will prescribe medications for pain management. Take them as needed but only as directed.
Apply ice to the area as directed by your doctor. Ice helps dull the pain and reduces swelling and bruising. The pain and bruising will be less severe if you apply ice frequently in the beginning.
You may be on crutches for a couple of days. Do not attempt to walk without crutches until your doctor advises you do to so. Remember, you may be taking pain medications that can make you dizzy or lightheaded. Your coordination and balance will not be normal. Walking too soon could result in a fall which could cause other injuries.
Physical therapy is the key to your recovery. You will begin physical therapy within hours of your surgery. The goal of physical therapy is to get the knee moving so that the reconstructed ligament does not stiffen and shorten, causing further problems. The joint will become rigid if the knee is not exercised properly. Failure to perform the physical therapy exercises will result in a tight, stiff, uncomfortable feeling, and a slower recovery progress.
Physical therapy is not optional. If your physical therapist gives you a regimen of exercises or stretches to do at home, you absolutely must do them. You must perform these exercises to achieve a normal range of motion in the knee joint, allowing you to return to regular weight bearing activities. These exercises will also strengthen the leg muscles (the quads and hamstrings) to help safely support the knee joint.
Physical therapy is hard work. It hurts. You will sweat and get sore. It gets boring, it is inconvenient, and you will get tired of it. Again, therapy is not optional if you want to recover fully. Do not miss any appointments with your physical therapist. The machines in the physical therapist's office are specifically designed to aid in your recovery. Missing a session will result in delayed progress. Too many missed appointments will result in a weak and unstable knee.
Return to normal activity as directed by your doctor and physical therapist.