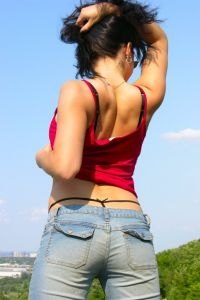 If you long for an hourglass shape, small waist that tapers into a nicely rounded butt, you are in good company. One of the most common complaints a woman has about her body centers on her rear end. If you're underweight or if your bottom line has dropped a little with age, a few techniques can help you regain a girlish figure.
Get moving. Your gluteus muscles, the largest, bulkiest muscles on the back of your hips that form your butt; connect to your hamstrings, which consist of three large muscles that run down the back of your leg. When you move, these muscles work together to move and lift your body weight. As your gluteus muscles become stronger, they will sit higher on your backside. Try taking larger steps when walking or going up steps two at a time.
Do squats and lunges. Among the best exercises for toning up butt muscles, squats work the upper portion of the gluteus muscle. Perform squats with your back straight and your body lowered no further than a horizontal position from your hips to your knees. Try holding onto a chair or counter top with one hand for support. Tighten your abdominal and gluteus muscles and avoid leaning forward to protect your knees. Watch a video on the correct way to perform squats. (See Resources.)
Lunge forward on alternate legs, placing one foot in front and balancing your body as you lower yourself. Stop before your front knee reaches a 45-degree angle to protect your knee joint. Make sure to keep your bent knee directly over your ankle and tighten your abdominal muscles to prevent over arching of your back. Watch a video on the correct way to perform a lunge. (See Resources.)
Rent a different "buns" DVD each week to keep your fitness routine from going stale. It's hard to do the same video day after day, so don't. Video stores stock many fitness DVDs and not only will you enjoy the change of pace, you'll find new ways to firm and shape your hips.
Take martial arts classes. There's a good reason female martial arts experts have shapely derrieres; they spend hours kicking in all different directions. Not only will you strengthen the muscles that make your backside round and shapely, you'll stretch and learn to keep your muscles limber. As a plus, you may come away with some self-defense techniques.
Stretch properly before performing exercises that involve lunges, squats or kicks to prevent a pulled muscle. When stretching your muscles, use gentle tension instead of bouncing and take your time. When your muscles are limber, you can perform exercises with less chance of injury. Use proper stretching techniques to avoid a pulled muscle. (See Resources.)
Jump on your bicycle and take a spin. A change of scenery lets you forget that your hamstring and gluteus muscles are getting a workout. On inclement days, use a stationary bike and distract yourself by watching television, listening to music or reading a magazine.
Eat more protein and reduce your intake of starchy carbohydrates, sweets and saturated fats. Muscles are made of protein and they become stronger as they receive more fuel. Saturated fats, found in some meat products, eggs and whole dairy foods, increase your risk of clogged arteries, coronary heart disease and stroke. Become a label-reader when shopping for healthy food.