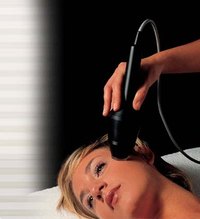 Lasers are used cosmetically to treat a variety of skin conditions. Often used in anti-aging treatments, lasers can reduce fine lines and wrinkles, making skin look younger and fresher. Lasers can also help to fade scars, tattoos and stretch marks. You can also free yourself from unwanted hair via laser hair removal. Since laser light is quite intense, there are risks involved with any laser procedure. While skin discoloration is possible with laser treatment, burns are the most common side effects. It's imperative that you care for burned skin properly to encourage recovery.
Things You'll Need
Ice
Cloth
Milk
Cotton balls
Hydrocortisone cream
Sunscreen
Aloe vera gel
Apply a cold compress to the burned area. Use a traditional ice pack or wrap ice cubes in a soft cloth. Place ice on the area for 10 minutes and then take it off for 10 minutes. Repeat the process for an hour.
Dip a cotton ball in milk and hold it on the burned area. Reapply milk every 20 minutes. The milk will help to soothe the burn and relieve pain.
Rub a small amount of hydrocortisone cream on the area.
Wear sunscreen on the area every day. Burned skin is incredibly susceptible to sun damage, so it must be protected. Choose a sunscreen with a high SPF level that protects against both UVA and UVB rays. If possible, wear protective clothing as well.
Put aloe vera gel on the burn. Refrigerate the aloe vera gel beforehand and it will feel very soothing when applied.
Place honey on the area. Honey possesses antibacterial properties so it will discourage infection.
Drink plenty of water. Burned skin is dehydrated.