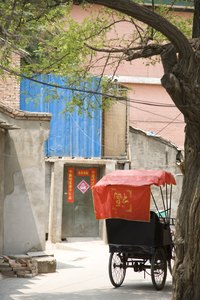 The capital of China is a centuries-old city with modern skyscrapers looming over ancient neighborhoods called hutong that date back to the time of Kublai Khan. At 6,000 square miles in size, Beijing is bigger than the state of Connecticut. Inexpensive subways, buses and taxis make it easy to see some of Beijing's biggest tourism sites and cozier attractions in just five days.
Day 1: Forbidden City
To experience the old and new, stand at the entrance gates to the Forbidden City where it faces a modern roadway congested with traffic, across the street from Tiananmen Square. Inside the gates are palaces, pavilions and walkways in a walled compound more than 7.7 million square feet in size where 24 Chinese emperors lived between 1420 and 1923. Walk east from the Forbidden City -- officially called the Palace Museum -- to the pedestrian-only shopping and food street called Wangfujing Dajie. On your first evening in Beijing, sample the city's best known dish: Peking duck. Da Dong is a favorite restaurant of visitors and locals, as is the cozy Li Qun, recommended by the Wall Street Journal.
Day 2: The Great Wall
Badaling and Mutianyu are two sections of the Great Wall of China located closest to Beijing. A tourist office or major hotel can arrange for you to hire a taxi for the day or half-day, or you can take subways to stops with specially marked buses bound for either section. Badaling, the more visited of the two, is about 37 miles from the city. Mutianyu is about 44 miles from the city. Both UNESCO World Heritage sites have breathtaking views of mountain vistas and wide plains from steep stone steps and watchtowers. Mutianyu has a cable car for those who don't want to climb every step. When you return, enjoy a colorful evening of Beijing opera at the city's domed National Center of the Performing Arts or a lively acrobatics show at the Tiandi or Chaoyang theaters.
Day 3: Explore the Hutong
Spend a day exploring the colorful courtyards, small shops, sidewalk vendors and narrow streets of Beijing's ancient hutong. Hutong are mazes of narrow streets along which you can find antique shops, small restaurants and tiny homes, and great opportunities to people-watch. Some hutong date back nearly 800 years. Pass quiet tea houses and noisy vendors pulling makeshift wagons full of snacks or trinkets. Begin at Houhai, a lake in the center of the city surrounded by shops, restaurants and rickshaw businesses. You can take a rickshaw or pedicab tour through the nearby hutong, or you can set out on foot from the Drum Tower, a huge building by the lake that offers regularly scheduled drum performances.
Day 4: Panjiayuan and a Palace
Spend a morning at Panjiayuan Market, a giant flea market ringed by art stalls and stores stacked with ceramics, crafts, carpets or furniture. As many as 3,000 dealers and 50,000 visitors keep things busy, according to Lonely Planet. Spend the afternoon at the Summer Palace, a one-time lakeside escape for China's emperors during hot Beijing summers. Explore temples, gardens and pavilions on the grounds along Kunming Lake. Restaurants are located on Suzhou Street near the North Palace Gate.
Day 5: Lama Temple
Beijing's Lama Temple is also called Yonghegong. It's a Tibetan Buddhist temple where caretaker monks walk quietly between rooms filled with Tibetan scroll paintings and images of Buddha. One statue called Maitreya Buddha stands 85 feet tall. From the front entrance, walk forward several hundred feet to the quieter, smaller Confucius Temple. If you're ready to try your hand at Chinese cuisine, a cultural exchange center in the neighborhood called The Hutong offers cooking classes Mondays through Thursdays, according to CNN Travel.