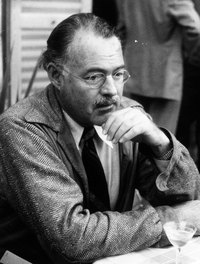 Ernest Hemingway died on July 2, 1961, from a self-inflicted shotgun blast to the head. Hemingway was an acclaimed author, winning the Nobel Prize for Literature in 1954 and known for both his short stories and his longer works, such as "For Whom the Bell Tolls," "The Sun Also Rises," "A Farewell to Arms" and "The Old Man and the Sea." He had been in ill health because of the effects of high blood pressure and hepatitis and had been recently discharged from a lengthy clinic stay. When he died, he was staying with his fourth wife at his home in Ketchum, Idaho, and after a private funeral he was buried nearby.
Hemingway's Gravesite
Hemingway was buried in Ketchum Cemetery in Ketchum, Idaho. Ketchum Cemetery is at 1026 North Main Street, which doubles as Highway 75, just north of the town of Ketchum. Hemingway Sun Valley advises that once you reach the cemetery gate, "take the right-hand road and stop after the curve. Walk into a stand of four pines to the right and look for two granite rectangles flush with the ground." A plain gray slab, listing simply his name and birth and death dates, marks his gravesite.