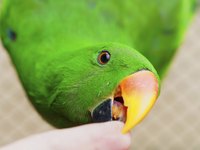 A parrot's full bite can be quite painful. Biting is usually the response of a fearful, aggressive or hormonal bird. If Polly has been nipping your fingers, hands or other body parts, use positive reinforcement to discourage her unpleasant behavior and encourage her not to bite you anymore.
Determine the Cause
Before you begin training your parrot, you'll need to figure out why she's been biting you. If your normally well-behaved bird suddenly begins biting, an illness could be to blame. Bring Polly to an avian vet for a checkup. Parrots can be easily stressed or frightened, so never sneak up on your parrot or approach her from behind, which could result in a bite. If your feathered friend is hormonal and ready to mate, she could be more aggressive than usual, and may bite. There's nothing you can do while she's in this state other than to avoid handling her.
Accentuate the Positive
You want to associate your hands and fingers with something good, so start by offering your feathered friend something she loves through the cage bars. Fruits are tasty, healthy treats to use. Observe your parrot's body language and look for signs of aggression, such as rapid expanding and contracting of the pupils, loud vocalizations and tightening of the feathers on the body. Avoid your bird during such displays. If your parrot is calm, puffing up her feathers or lowering her head for a scratch, interact with her and give her some rewards. Rewarding your bird when she's not biting you and behaving calmly will encourage good behaviors.
Don't Reinforce the Negatives
If your parrot attempts to bite you, nips you as a warning that she will bite you, or actually does bite you, simply tell her "no" in a firm voice and ignore her for a few minutes until she calms down. Screaming at her or hitting her on the beak will simply scare her and inadvertently reinforce her biting behavior. Fearful birds will become more fearful of you, and aggressive ones will be encouraged to bite you in the future because of your reaction. Never put your parrot in her cage as a "time out," as you would with a dog. This teaches her that her cage is something bad rather than the security lair it should be.
Start Early and Train Slowly
From a young age, teach your parrot not to bite by giving her toys to chew on, not your fingers. Handle her frequently. When training a previously mistreated bird, use a perch to teach her to step up, rather than your hand, when taking her out of her cage at first. When she doesn't bite the perch, reward her with a treat. Eventually you can replace the perch with your hand. If stroking your bird eventually causes her to bite, determine how long it usually takes before she tries to bite you. Stop handling her one to two minutes before this amount of time passes, and reward her with a treat to teach her that not biting will result in good things.