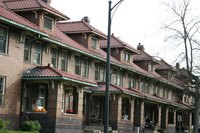 Section 8 housing gives low-income families the opportunity to find a safe and affordable home in the Cass County area. If you meet certain qualifications, you may benefit from Section 8 housing.
Things You'll Need
Previous Income Tax Records
Proof of U.S. citizenship
Determine whether or not you qualify for Section 8 housing. To be eligible, your household income must be 50 percent or less than the median income of Cass County residents. Additionally, you must also have no criminal background and a good rental history.
Obtain all of the documents that you will need in order to complete your application. These items include: picture ID, social security card, pay stubs and tax records.
Contact the Cass County Housing Division to see if it is accepting applications for the Section 8 housing program. If it is, complete an application and have your name placed on the waiting list.
When you receive your application, be sure to fill it out in ink. Typewritten applications are not allowed. Some of the information that you will be asked includes previous rental history with landlord information, your household's yearly income, the name and address of your bank, employer information and the names of everyone who will be living in the home with you.
After your name reaches the top of the waiting list, you will receive a housing voucher. At this time, you will have 60 days to find HUD-approved housing.