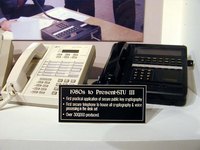 Whether collecting money for yourself, for a business or as a bill collector, there are certain rules that must be followed. The backbone of these rules is The Fair Credit Reporting Act. This article explains, for the person collecting money for a company or a bill collector, the proper way to make a collection call.
Study the delinquent account before calling. Have there been a lot attempts at collection? Have notes been made with respect to debtors' attitudes? Is it a large account or small account? Can you expect the person to pay the whole amount or will they probably need to make arrangements?
Call the debtor. You'll need to verify the last four digits of their Social Security number to identify the debtor so you do not discuss private information with the wrong person. If you are directly asked if this a collection company or if this call is about a debt you must answer truthfully. If no one answers leave a name and phone number on the phone recorder but no company name and certainly never mention the reason for the call or detailed information.
Provide the "Mini Miranda." "My name is Jane Doe and this is an attempt to collect a debt, any information obtained will be used for that purpose." Specify the debt. Advise the total amount and the date and nature of services or products. Ask for the entire balance.
Set up payment arrangements that you believe the person can make. If a person is a laborer they won't be able to pay $300 per month. You will just have to call them again. Allow smaller payments if the person is willing to use a credit card and have you draft payments every month.
Call references provided if a person does not return your calls. Ask these references to give the debtor a message for you: "Please call you leaving your name and phone number." Doing this is legal. Sharing information is not. Monitor any payment agreements that are made. As long as the debtor makes payments as agreed do not contact them; however, as soon as they miss a payment call them right away.