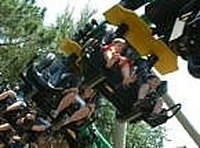 Many people go to theme park during the hottest season of the year summer. Since people rarely travel to theme parks alone, someone always ends up baking in the sun while their friend is out having fun on roller coasters.
The first thing you should do to get over roller coasters is to work your way up to riding a roller coaster. You can start by visiting amusement parks like Six Flags, Kings dominion,Bush gardens, and Carouwinds. Start getting over your fear bye riding the roller coaster in the kids section of theme parks first. No matter how silly you look you must go through these steps to get over your fears.
Once you have rode several of the kiddie rides, you are ready to move on to the next step. Now you are ready to ride some rides that are little bit more extreme than small world,or Hanna Barbara land. Now you should try to ride rides that make your stomach drop enough for you to feel it. Wants you are comfortable with these rides get on the kiddie pirate ship then move up to an adult pirate ship. When your stomach drops laugh for no reason at all, tell yourself how fun it is in your mind and eventually you will get use to the feeling. The reason we start in kiddie land is because you don't want to be a grown adult crying on a pirate ship with a 8 year old next to you.
Now we are ready for your first roller coaster, Get on the most basic roller coaster in your theme park you can tell the most basic by the size restrictions. If you can don't ride with an adult ride with a little kid. Self consciously you don't want to embarrass yourself next to a 8 year old. Think about how fun it is waiting 45 minutes to an hour in the hot sun for your spouse of children to get off of a roller coaster. Think about how much money you spent in a theme park just to sit down and burn up all day. Get your moneys worth now that your ready take on the largest coaster in the park. Don't be afraid to hype yourself up, or even give yourself a pep talk out loud. I listed some popular coaster and theme parks you may want to try in the resources tab.