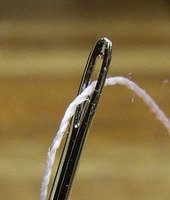 We have three basic ranges of vision. The near range is for reading and seeing up close. The mid-range is for seeing things at arm's length such as dashboards, computer screens and items on shelves while shopping. The distance range is anything farther away like road signs and people approaching. A healthy and normally functioning eye can accommodate all three ranges of vision without taking time to adjust. That ability to accommodate decreases over time and as we age our eyes have a difficult time making the adjustment from one range to another. Eventually, we may not be able to achieve visual clarity in one or more of the three ranges. That is when we need eyeglasses. A progressive bifocal lens accommodates all three ranges of vision without the cosmetic unattractiveness of bifocal lines in the lenses. Progressive lenses take time to get used to.
Things You'll Need
Progressive lens eyeglasses
Accept that your new progressive lenses are not likely to work the moment you put them on. The most important step to adjusting to progressive lenses is understanding you are asking your eyes to completely change the way they have been working. As time has passed and the need for progressive lenses has gradually presented itself your eyes began working extra hard so you can see. When you put those progressive glasses on, your eyes can't just turn that off immediately. So first thing you have to do is get in the right mindset when you pick your new glasses up from the eye doctor.

Prepare to test each area of the lens. The progressive bifocal lens has a small area for reading at the bottom of the lens, a slightly wider corridor for mid-range going up the center of the lens, and it opens up to a large area of prescription for your distance vision in the top of the lens. You already understand that making the transition from one range of vision to another is probably not going to be comfortable at this moment, but what you can test is the clarity of vision through each of those areas of the lens. Put your progressive lens eyeglasses on.

Hold your reading material up close at your usual reading distance. Your eyes should drop naturally to the bottom of the lens to view through the reading area of the glasses. Although technology is improving every day, the size of that reading space does not cover the whole bottom portion of the lens so you may have to move your head slightly to find the area of greatest clarity. If you find a good clear area for reading you can assume that portion of your prescription is correct and move on to test the intermediate area of the lenses.

Hold your reading material at arm's length and repeat the vision test from Step 3. You are just looking for good visual acuity at this point. Once you find you can see well at that range, move on to the distance.

Look straight ahead at the distance. Look down the street. Look at people around you. Look at the clock. If you find good clear vision at this distance, too, you know that your prescription is correct and that you know where to find the ranges of vision. Now it is time to work on functioning with the glasses.

Walk around, carefully, while wearing the glasses. Keep your eyes straight ahead. Vision should be clear. Then move your eyes slowly to the outside edges of the glasses and notice that the vision becomes less clear. Do the same while looking out and slowly dropping your eyes lower in the lenses. The lower you get, the worse the vision becomes. This is because your eyes are looking through the prescription for mid- and close range. The key is to train your eyes to automatically find that "sweet spot" in the lenses that corresponds with the distance at which you are looking. It feels awkward at first but it will become second nature.
Tips & Warnings
Have your progressive lens glasses properly adjusted by a professional. Precise measurements were taken to place those ranges in front of you to provide optimum vision potential and if the glasses are crooked or sliding down your nose you cannot function properly with your glasses.
If you pick your new progressives up in the afternoon, put them away until the next morning when your eyes are fresh. In the middle of the day your eyes are already in high gear and adjusted to what they have to work with. They will fight against the new prescription and you will get frustrated.
Adapting to progressive lenses takes time and there is no gradual progress being made. You will be frustrated and hate them equally on the first day, the second day, the third day, and so on. Then one magic day, maybe day 5, you will wake up and it will be like you have worn them your whole life.
Be careful when walking around for the first few days until your eyes are used to the prescription variations in the lenses. It is easy to misjudge what is in front of you and trip on steps if you are looking through the wrong area.
If you have not become comfortable with your progressive lenses within 10 days, return to your eye doctor for a re-evaluation.
Photo Credit http://www.flickr.com/photos/nyome_wallen/,http://www.flickr.com/photos/dolphin_dolphin/,http://www.flickr.com/photos/gabrielletilley/,http://www.flickr.com/photos/boxley/
Promoted By Zergnet