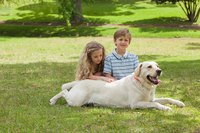 A dull, harsh coat can be an early sign that your dog has parasites or another underlying health condition requiring veterinary attention. If your dog's health checks out fine, you can improve the shine in your dog's coat with a few special grooming techniques and a little extra nutrition.
Wash It
A dull coat often indicates dry, flaky skin. Washing your dog more than once a month can contribute to the condition by removing oils needed for a shiny coat and healthy skin. An oatmeal bath is soothing to your dog's skin and leaves his coat shiny. Pulverize a cup of oatmeal in the blender until it is a fine powder and stir it into a bathtub filled with warm water. Put your dog in the tub and massage the oatmeal water into his coat and skin for about 15 minutes before rinsing. Towel dry him to prevent damage and dryness caused by blow drying.
Brush It
Brush your dog for 10 to 15 minutes every other day. The action moves the natural oils from the skin through the dog's coat, increasing its gloss. Brushing removes dead, dull hair and stimulates the hair follicles. Use shedding blades and slicker brushes for removing mats or final fluffing, but use a coarse, natural-bristled brush for the bulk of the brushing. Select a brush with long, widely spaced bristles for longer coats and short, finely spaced bristled for short coats.
Feed It
Your dog's nutrition plays an important part in a shiny coat. Quality commercial pet foods make it unlikely your dog has a nutritional deficiency, but allergies to corn, wheat or other products can show up as a dull coat and itchy skin. Increasing essential fatty acids can add a bit of shine to the coat and soothe the skin as well. Add a teaspoon of sunflower, coconut or safflower oil to your small dog's food -- or a tablespoon for a large dog. Salmon, sardines and tuna are also dog-friendly ways to add essential fatty acids that will bring out the shine in your dog's coat.
Spray It
For extra shine in the show ring, use a glossing product to spritz on a little last-minute shine. You'll find spray-on products as well as mousses, gels and concentrates designed to boost gloss while enhancing your dog's style. Conditioning products help reduce matting and minimize breakage with the help of keratin proteins and oils. Some sprays contain optical brighteners to further enhance the coat's sheen. Styling products should be enhancements to an already shiny coat. If your dog's coat doesn't shine naturally, contact your vet to discuss the best course of action to bring out its glow.