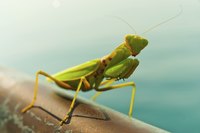 A praying mantis is a good project as a small pet who requires minimal care. They grow up to 12 inches long, depending on the species and live about a year. This is a pet who requires its main diet to be living insects and worms of different types and sizes dependent on his age. You must commit to feeding him live food and try not to be squeamish when he snatches the food in his front "praying" arms and eats it.
Things You'll Need
Flightless fruit flies
Rice flour beetles
Extra small silkworms and ReptiWorms
Fly larvae
Aphids
Small and medium silkworms
Medium ReptiWorms
Crickets
Cockroaches
Grasshoppers
House flies
Moths
Freeze-dried worms
Tweezers
Place small insects such as flightless fruit flies, rice flour beetles, extra small silkworms and ReptiWorms, fly larvae and aphids in a dish in a newborn or juvenile praying mantis's cage. Small and young praying mantises eat smaller insects, which are easy to catch while they are young. Feed infant and juveniles every day and remove the uneaten insects at the end of the day.
Give an adult praying mantis a tasty selection of larger insects including small and medium silkworms, medium ReptiWorms, crickets, cockroaches, grasshoppers, house flies and moths for his daily diet. You can include some of the smaller insects for younger praying mantises such as fruit flies and larvae for snacks. Feed adults twice a week.
Offer an adult praying mantis a freeze-dried worm held in a pair of tweezers, while moving it slowly in front of his face. Praying mantises generally eat only live, moving insects and worms but the motion causes him to grasp it and eat it as if it were living.