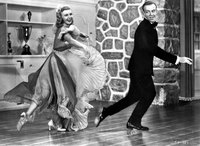 When Ginger Rogers danced across the silver screen in the 1930s, she always did so with captivating style. Rogers topped off her carefully choreographed dances with partner Fred Astaire with a glamorous wardrobe. Her dresses skimmed the floor and shimmered as she moved, while playful accessories put her into character. Dust off your tap shoes and throw on the "Swing Time" soundtrack to channel your inner Ginger Rogers.
White Collar Girl
In her daily life and for performances that required a demure approach, Rogers loved collared outfits. For the stage, she donned floor-length chiffon gowns with capped sleeves and a deep sailor collar. In sunnier settings, she would throw on high-waisted shorts with a hemline that fell just above the knee and a short-sleeved blouse with a peter pan collar. Choose a collar in a contrasting color for maximum impact.
Go for Gold
Rogers was never one to shy away from a bit of glitz when primping for special performances and events. Look for layered floor-sweeping gowns with bell sleeves in metallics like gold, silver or glittered chiffon. She liked intricate designs with ruching that tapered toward the floor and plenty of beading throughout the bodice. If you're working with a neutral dress, pin a large metallic ribbon or bow to the collar or sleeve for instant Ginger-approved glamour.
Cap Things Off
Rogers' accessory of choice was always a dainty hat. Look for pillbox hats with floral or mesh embellishments, which can often be found at thrift stores. Use hair pins to secure the hat to the side of your head, as Rogers did to keep it in place while she danced. When a more functional hat is required to pair with shorts and a blouse, opt for a wide-brimmed straw hat instead, as Rogers did for days out in the sun.
Tap Your Feet
A career in dance couldn't keep Rogers from stocking her wardrobe with glamorous shoes. She was ahead of her time and worked with designers to create her own glitzy tap shoes. Look for dance shoes with a peep toe and a low heel. Pastel satin and gold were favorites -- find these at a dance store or make your own. Spritz a thrifted pair with spray paint, or use craft glue to secure plastic jewels to the heel.