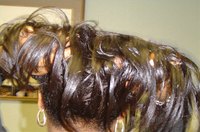 Winter has a number of ills, but not much is worse than hat hair. Hat hair is a grotesque phenomenon in which your hair becomes a matted helmet-like shape that looks like, well, you were just wearing a hat. You can throw hat hair out the window—but keep the hat—when your preserve a hairstyle in a winter hat. Here's how.
Things You'll Need
Roomy hat
Styling products
Ponytail ties and bobby pins
Pick a roomy hat. Start off your preservation efforts by picking a hat that has some breathing room. This means tight-fitting ski caps are out and larger fedora-type hats with a scarf tie around the bottom rim are in. You'll also want a hat with some head room above your scalp if you have longer hair.
Hold off on the styling products. Once your hair is dry and styled, do not finish it off with the gooey hairspray, gelled ends or other products that stay sticky and will just go flat in the hat. Take small containers of the products you need along with you.
Pull the front hair back. Use bobby pins or a loose headband to secure the front hair up and away from your face. This insures the hat will fit snugly and also that the hair won't end up plastered to your cheek bones.
Tie up the ends. Scoop your hands around the back of your neck and through the sides of your hair, pulling it all upwards. Secure a loose ponytail on top of your head. Twist the ponytail into a loose bun and secure it with more bobby pins.
Put on the hat. Carefully arrange the hat so it doesn't look like you have all kinds of lumps on your head.
Remove the hat and run to the bathroom. Once you've reached your indoor or warm destination, take off the hat. Get in front of a mirror to finish off your style. First remove all the bobby pins and elastic bands and tip your head upside down, running your fingers upwards through the hair to fluff it up. Flip your head right side up and finish off styling as desired. You have your travel size products to help you out.