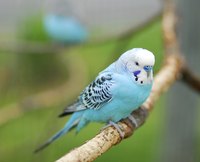 If you're planning to introduce a parakeet into your life, he won't be moving into the spare bedroom or apartment next door. He'll need a suitable cage where he'll spend most of his life, and he'll rely upon you to choose and set up his new home. When it comes to parakeet cages, size matters, as does the placement of the paraphernalia every parakeet needs to live a happy and healthy life.
Choosing Your Cage
Cage choice is key. Your parakeet will be spending most, if not all, of his life in his cage. Rectangular cages provide the greatest security, as corners mimic the hiding places parakeets seek out in the wild. Parakeets can be chewers, so stainless steel in a 304 grade is the desired material for your cage. Parakeets need room to spread their wings and fly. Eighteen inches wide is the minimum recommended width. Height should be 22 inches, and depth at least 14 inches. Cage bar spacing is also a vital concern. Bars should be spaced at 1/2 inch to prevent your parakeet from being able to get his head wedged between the bars. Horizontal bars are best, on at least two sides, so your parakeet can climb.
The Food Station
Your parakeet will need as least two bowls or cups, one each for food and water. Additional cups or bowls can be used for treats, which keeps them off the floor and away from waste. Parakeets have other nutritional needs, which can be satisfied with a mineral block and cuttlebone, which they'll used when they need the nutrients these items provide.
A Place to Perch
Most parakeet cages come with perches, but they may not be enough for your parakeet, depending upon the size of the cage. Perches should be placed far enough apart as to encourage your parakeet to fly from perch to perch. Rope perches give your parakeet the opportunity to perch and to swing.
The Need for Entertainment
Parakeets love toys, especially those that stimulate their senses, such as toys with bells, and colorful rings. Your parakeet likely will chew his toys, so make sure they are suitable for birds by consulting your bird paraphernalia retailer. Wiffle balls containing bells will keep your parakeet entertained, and also encourage him to move about his space. Make sure none of the toys have sharp edges or contain spaces in which your bird may become trapped. If a foot, toenail or beak can get caught in a toy, it's not the right toy for your parakeet. Hang your bird's toys throughout his cage to encourage him to fly to where each toy is located. This will give him great exercise. Swapping out his toys from time to time will keep him interested in play.
Location, Location, Location
The location of your parakeet's cage is as important as its size and setup. Parakeets are social birds, so they're happiest when their cage is located in an area where their humans are spending time. A bright space is enjoyable to parakeets, but don't place them in direct sunlight. Additionally, keep them away from direct drafts from doors and windows, and from heat sources such as vents and fireplaces. Kitchens are unsuitable locations for birds, as some kitchen fumes can be harmful or even fatal, to your parakeets.