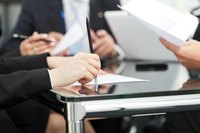 Positive testimonials and reviews from happy customers can lead to even more sales for your business. When others see the testimonials -- online through a third-party review site, such as Yelp or Yahoo, or through more conventional means, like emails and letters -- they may be persuaded to give you a try as well. In addition to flat out asking for testimonials, incorporate other tactics to land those golden marketing tools.
Add Review Sites to Handouts
Make the review process an integral part of your marketing efforts, instead of just waiting until after you've served customers to ask for a testimonial. On your business cards and fliers, list sites where clients can leave a review. Provide short instructions in your brochures to illustrate how easy and quick it is to log in and place a review on a chosen site. Put a link to the review site in email correspondences with clients.
Ask for It Early
Many businesses are built on relationships that you create before, during and after a sale. The testimonial you get doesn't have to come after you've already provided a service. Reviews about your character, your reliability, your open and honest communication practices, and your willingness to listen are just as vital as the quality of the service you provide. Ask for a testimonial while you are in the process of getting to know a client, immediately after signing a contract or in the middle of a project. You'll be in the forefront of clients' consciousness while you're still working with them, and they may be more inclined to follow through with a short review to maintain a positive relationship.
Offer to Pay
Offer to pay a local celebrity to endorse your business in an advertisement. Celebrity endorsements can give your reputation and company brand a real boost. Write the script for the ad if it's going to be televised, or pay for the rights to use a picture in print. Avoid problems with the Federal Trade Commission by revealing in the ad that you are paying for the testimonial. The celebrity may even say that while she is being paid, she also agrees with the statements. In fact, celebrities are held to the same standards of truth in advertising as the advertisers themselves and may be sued for false or misleading statements.
Give Good Reviews
Tell your customers how much you enjoyed working with them and offer to feature them on your website. Using this approach, you are giving recognition rather than asking for it. When a client tells you that he is particularly pleased with the way you handled a certain project, ask whether you can feature his comments on your website. Send clients emails with compliments about their easygoing attitude or the quality of their products, the great look of their websites or about how much you appreciate their honesty. When they return the email with a similar compliment, take the quote from the text and post it on your site or in your brochures --with their permission.