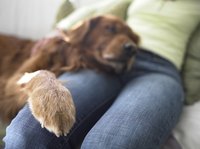 If a dog has limber tail syndrome, his tail may be limp or it may be held in an awkward position. These are the most obvious signs of limber tail, or acute caudal myopathy. While limber tail syndrome can appear in any canine with a tail, it's frequently seen in hunting breeds, specifically Labrador retrievers, beagles and pointers. Limber tail can be highly painful to dogs, so don't dismiss it. Veterinary assistance often speeds recovery.
About Limber Tail Syndrome
Limber tail syndrome is a form of injury to canine tail muscles. The condition is often associated with abrupt temperature shock or activities that involve a lot of tail movement. Although limber tail syndrome is painful, it's usually innocuous in canines. This is because it typically resolves itself within one or two days. It can, however, persist for a few weeks.
Indications of the condition typically pop up after strenuous physical activity such as swimming and hunting. Dogs also sometimes exhibit signs of this condition after significant time in damp and cold conditions or after extended travel in cages. Inordinate wagging, even, can trigger limber tail syndrome. Last but not least, excessively warm or cold baths can lead to this disorder.
Telltale Symptoms
The tail of a dog with limber tail syndrome might droop limply from its base. Otherwise, the tail might extend from the base horizontally for 3 to 4 inches, then point downward. If it looks like your pet's tail cannot handle its weight, limber tail syndrome could be the cause.
If you inspect your pet's tail up close, you might detect some subtle swelling on the base. The tails may appear immobile.
Other typical signs of limber tail include fidgety behavior and hesitation to sit. In particularly painful cases, dogs can experience *reduced appetites and decreased energy levels.
Veterinary Assistance
If you detect symptoms of limber tail syndrome, take him to the veterinarian to determine exactly what's going on. The veterinarian will conduct a physical examination to ensure that your dog isn't experiencing a broken tail bone, then might prescribe an anti-inflammatory medication. Sufficient rest aids swift recovery. When a dog is healing from limber tail syndrome, his tail might droop conspicuously to the side.
Limber Tail Syndrome Mechanics
Limber tail syndrome is often a result of the excessive or repetitive use of muscles that, simply put, aren't sufficiently adapted to the specific form of exercise they've just experienced. Overexertion and stress are common causes of the disorder. A dog who spends hours in a cramped crate might develop the condition. Reduced temperatures at the tail, which might occur during activities such as swimming in cold water like retrievers do, can trigger tail trauma and limber tail syndrome.
Inordinate tail motions can bring on coccygeal muscle swelling, which can decrease blood perfusion that travels to the distal muscles. This decrease, in turn, can bring on ischemic trauma and a limp tail.
Acute Caudal Myopathy by Any Other Name
Some other colloquial or slang names for acute caudal myopathy are dead tail, limp tail, broken wag, frozen tail, rudder tail, cold water tail, sprung tail, sprain tail, cold tail and swimmer's tail. The condition is also occasionally referred to as "tail gland inflammation."