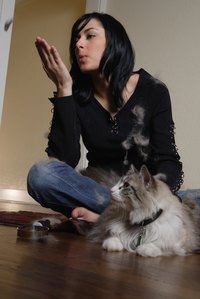 Shedding is normal and healthy for cats. Typically outdoor cats shed less in the winter while indoor cats lose fur regularly all year round. Grooming and a healthy diet can reduce the amount of fur your cat sheds, while some furniture rearranging and regular housekeeping can limit the spread of fur throughout your home.
Mind the Diet
Healthy cats generally have healthy coats. To take care of your cat's overall health, feed her a balanced diet. This includes a quality pet food with meat as the first ingredient and few additives. Cats require taurine, an amino acid that is only found in animal protein and that cats cannot produce on their own. Hence, meat is an important part of their diet. Veterinarian Marty Becker on Vetstreet describes a healthy cat coat as full, shiny and sleek. Excessive or unusual hair loss, excessive grooming or bare patches all require a vet visit to rule out underlying medical causes of hair loss.
Brush it Out
Regular brushing acts to remove dead hair. It also activates and distributes the natural oils in the cat's skin, contributing to the health of the coat. All cats with fur shed to some degree. For short-haired breeds, consider a grooming glove that will gather loose fur as you pet your cat. You also can comb her coat and follow up with a rubber brush to gather loose fur. Start grooming a long-haired cat with her belly and legs using a bristle or rubber brush and untangle any knots.
Cat-Friendly Space
Few cats go where they are told, but providing them with a place dedicated to their needs might reduce their desire to go on the human furniture. This may not stop them from shedding, but it can limit the effects of shedding on the people of the household. Provide a bed in a spot your cat frequents, as well as scratching posts, cat trees and other feline furniture to give them spots to lounge and spread their fur.
Maintain the Housekeeping
Reducing cat hair in the home is easier with regular maintenance. A damp dishcloth can help remove hair from clothes and furniture. Alternatives include a lint or fur brush, a lint roller or vacuum designed for cat hair. Commercial pet wipes can be an effective tool for bathing your kitty to maintain his coat health. Even if your cat continues to contribute to your wardrobe with some fur here and there, it will be more manageable over the long run with regular cleaning.