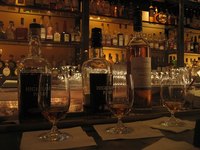 Chicago is a city that is known for fine dining and entertainment. Part of that experience includes the sale of alcohol, whether it is wine, beer or cocktails. In order to sell alcohol legally in the city of Chicago, you will need to possess a valid liquor license. The process of obtaining a liquor license can be a complicated and stressful process, especially if you are not sure of what steps the process entails. Just follow this easy guide and you should be able to get a Chicago liquor license in no time.
Things You'll Need
Photo identification
Chicago residency
Business plan
Financial backing
Research the location where you intend to do business to make sure that it is possible to obtain a liquor license for the premises. Some areas of Chicago are considered "dry precincts," while others may have a moratorium on new licenses due to an abundance of liquor locations. The city clerk's office can tell you if your location is in one of these areas. You will also be unable to obtain a liquor license if your location is within 100 feet of a school, church, day care, hospital, library or home for the elderly.
Determine what class of liquor license you require. There are nine major classes of liquor license in Chicago. These are tavern, packaged goods, consumption on premise, not-for-profit club, caterer, outdoor patio, late hour, special club-Wrigley rooftop and Navy Pier. Details about each class of license can be found on the website for the city of Chicago. A link has been placed in the "Resources" section for your convenience.
Meet with a business consultant. The Department of Business Affairs and Licensing, which is responsible for issuing liquor licenses, will provide you with a free business consultant who will help you through the process. During your initial meeting, the consultant will interview you about your background and your business, and also check the zoning of your location to make sure it is not in a restricted area. Your consultant will also provide you with any necessary applications and answer any questions you have about completing the forms. You can make an appointment by calling (312) 744-6249.
Complete your application form(s) and submit them to the Department of Business Affairs and Licensing. You may submit your application in person or by mail. The address is 121 N. LaSalle Street, City Hall, Room 800, in Chicago, Illinois. If you choose to file your application in person, the office hours are Monday through Friday, from 8:00AM to 5:00PM. You will also need to pay the filing fee at the time your application is filed.
Complete your task force inspections. Before you can obtain a liquor license, you will be required to have your building inspected by several business offices. The buildings department, fire department and health department will all need to inspect the property to make certain that it is a safe environment for the public. These inspections are collectively referred to as the task force inspections. You should bring your building up to code and be prepared for inspections before you file your application for a liquor license.
Undergo a background check. Your business consultant will schedule a meeting with the investigator who will perform the background check. Anyone who has at least a 5% ownership in the venture will be required to attend the meeting to have their fingerprints taken. Likewise, their spouses will be required to submit a spousal affidavit. The investigator will also interview the owners with respect to the financial status of the business, and may perform an on-site inspection to make sure the business is not located within 100 feet of a church, school, library, hospital or home for the elderly.
Wait for voter response. Within five days of the date your application is filed, the Department of Business Affairs and Licensing will send a notice to all registered voters who live within 250 feet of your proposed business location. Those individuals will then have a 40-day period in which to submit comments and/or written objections in reference to your application. These negative remarks may result in the denial of your request for a license, depending upon their nature and validity.
Wait for public notification. At the same time that the Department of Business Affairs and Licensing sends notice to registered voters in the area, they will also begin a general public notification. A notice of your application will be sent to the local city alderman and police district commander. A legal notice will also be run in the newspaper four times over a two-week period, and will provide you with a written notice to be posted on your building.
Submit additional documents. When you submitted your application in Step 4, the Department of Business Affairs and Licensing would have notified you of any additional documents you would need to provide. If additional documents are needed, you will need to submit them within 30 days of your application date to prevent your application from becoming inactive. If this happens, you will need to pay a sizeable fee to reactivate the application.
Receive your ruling. Once all applications and documents have been submitted and all notices posted, the liquor control commissioner will review your case. The commissioner will review your paperwork and any objections that may have come from the community, and then make a ruling as to whether or not you will receive a license to sell liquor in Chicago. This ruling will be made within 60 days of the date that all of your paperwork was submitted. In the event that your application is denied, you can file an appeal within 20 days with the license appeal commission.