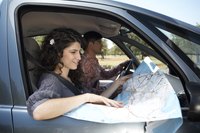 There's no place like a home away from home, whether an exotic destination on the other side of the border or the other side of the world. Be prepared before setting off for an international destination by knowing what safety issues or cultural mores to expect, as well as what kind of room awaits you. Make sure you've got proper documents and health preparation before setting foot in a foreign land.
Destination Research
You won't know the intimate details of your destination until after you land, but you need to know details on the country, region and city before you depart. The State Department maintains an extensive collection of country guides that detail everything from how crazy drivers might be on the roads in that destination to what kind of crime is most prevalent there. Do not brush aside travel warnings or alerts from the State Department, and do not assume you're completely safe if the U.S. government hasn't issued any warnings. Go to the U.S. Embassy site for your destination and register if directed to do so. Click on "messages for American citizens" to get the real-time security updates that are shared with Americans staying in that country. Visit a business travelers' etiquette site for a primer on the customs of the area.
Smart Booking
The last thing you want after a long journey is to find you've booked a hostel that resembles a horror-movie set or a bed-and-breakfast with more bedbugs than brioche. Talk to others who have been to the area, visit online forums to ask questions of natives or fellow travelers, and comb through reviews to get an accurate picture of accommodations. Check in advance to see how much your hotel will be there for you, such as whether the island resort sets up ferry service or whether it will make sure you're not stranded at the airport. Find out in advance whether your lodgings accept credit cards so you have a rough idea of how much currency to convert after arriving in the country. If there are a lot of moving parts in your travel plans, don't be afraid to get help from a travel agent who can step in if things go awry.
Travel Documents
Make sure you can get into the country once you arrive by confirming requirements with that country's embassy before leaving. Many countries require you have a certain block of time left on your passport before it expires or a certain number of blank pages in your passport. Some require you obtain visas electronically or in person before departing; some hand out visas at ports of entry and some let Americans come and go without visas. Some require an international driving permit in addition to a U.S. driver's license. Interpol keeps a database of tens of millions of stolen travel documents. Avoid becoming an entry -- keep your passport on your person and prep copies beforehand. Make paper and electronic copies of identification documents as well as tickets and credit cards, and keep those copies separate from the originals. For example, if your purse gets stolen, you have paper copies of needed documents in your carry-on or scanned copies in your email. The State Department recommends leaving a copy of your passport and itinerary with a trusted person at home.
Health and Supplies
Sit down and think about the worst-case scenario of your travel abroad and make sure you've prepared as well as you can for those eventualities. Review any outbreaks, food-safety issues or other health warnings by country at the Centers for Disease Control and Prevention website, where you'll also see recommended vaccinations to discuss with your doctor at least a month ahead of time. Check with your health-insurance company to see what your coverage is overseas, including if a medical evacuation is needed. Get a note from your doctor to accompany any prescription medications in case customs officials have a problem with your pills. Pack any special clothing you need for activities planned at your destination or for cultural considerations. Pack an electricity adapter geared to the voltage of your destination country to keep everything from your hair dryer to laptop properly charged.